Get your business fighting fit after COVID-19
🌍 The world is very different coming out of lockdown.
📣 NOW is the right time to invest in marketing.
🥊 Don't wait until your business is on the ropes.
⌛ Time is running out to grab new customers coming out of lockdown.
🏆 Be proactive and start marketing now to secure your business success.
✅ Here's how three clever business owners futureproofed their businesses for after COVID-19!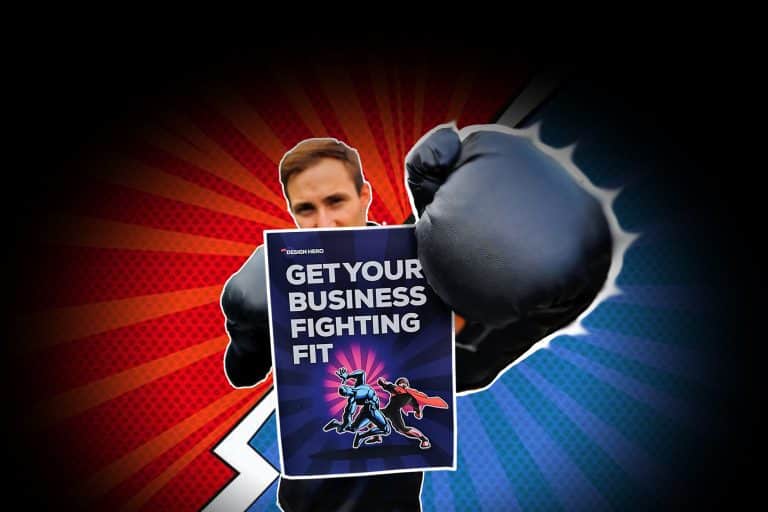 The business world after COVID-19
COVID-19 and lockdown have affected businesses in different ways.
We've all heard horror stories of businesses being completely devastated; It's been particularly hard for small businesses and the self-employed.
COVID-19 has left a wasteland of devastated business in it's wake, and many self-employed business owners have been forced to go into hibernation through lockdown.
But there is hope: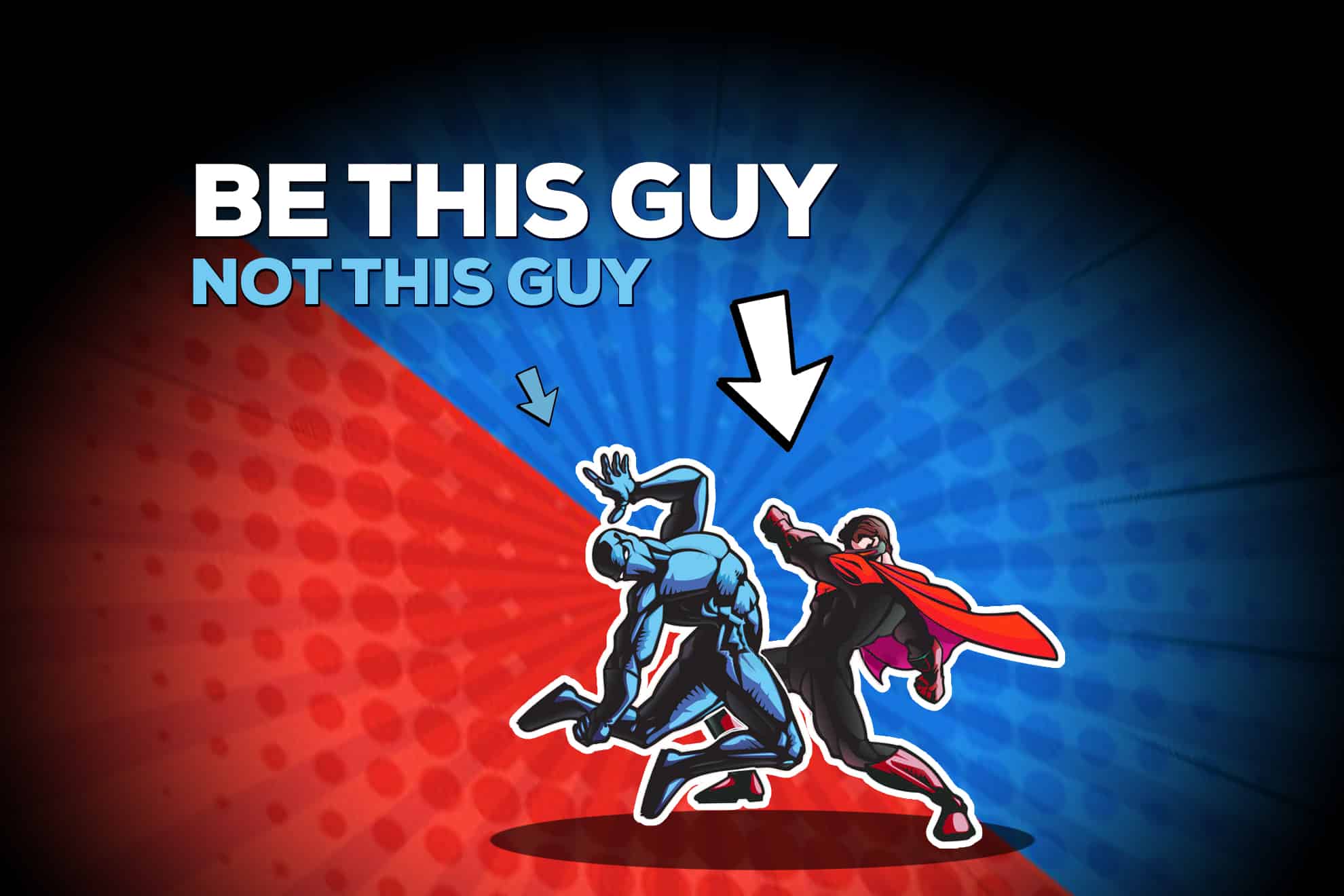 Don't wait until your business is on the ropes, act now to make sure your business comes out of COVID-19 swinging.
There are all sorts of new opportunities opening up for new types of businesses which wouldn't have been feasible before.
Some brave business entrepreneurs are pioneering new types of businesses springing to life to fill the cracks.
One unforeseen side-effect of lockdown is that people are far more comfortable with remote working, virtual communication (and poor personal hygiene.)
This has enabled new business models that simply wouldn't have been feasible before:
Virtual Gyms
Remote coaching and teaching
Podcasts and Video Blogging
If some of these businesses had approached me a year ago I wouldn't have fancied their chances at success.
Fast forward to today and businesses such as these are thriving.
I've been very fortunate to witness this firsthand.
In this post, we're going to look at 3 real examples of business who have adapted to the new business landscape.
What's your Marketing Strategy for after COVID-19?
It looks like lockdown is finally starting to ease.
A sense of normality is in now in sight.
But the world after COVID-19 is going to be different in a lot of ways.
Carrying on exactly as we did before isn't going to work!
It's amazing how many businesses don't have a marketing plan for reopening after COVID-19.
Why sit tight and wait for the storm to pass when you could be manoeuvring into calmer waters?
3 Marketing Ideas to Boost your Business
Some businesses are going to struggle, but one thing is for sure:
The ones that adapt to the new landscape are going to bounce back quicker, and even thrive.
I've worked with a number of clients in the last month alone who have transformed their business from a brick and mortar store into an online service.
These three local businesses in Greenock have seen the lay of the land and adapted.
It wasn't without effort or uncertainty, but the key thing was they acted quickly to adapt their business to the new landscape and take advantage of a new market.
Here are their strategies that they used to adapt to COVID-19 and futureproof their businesses for reopening after lockdown.
You can use these 3 ideas to make sure your business doesn't get left behind after COVID-19.
1. Refresh your website
I've already covered the many benefits of updating your website on a regular basis.
You should consider your website as your primary selling platform for the foreseeable future.
Your virtual presence is more important than ever, especially as people are trying to limit physical contact and unneeded journeys.
Some businesses aren't even able to reopen yet, so your website is the only way for your customers to visit your business.
Even if your business isn't trading, you can be building an audience and customers ready for reopening in the meantime.
What Shell Scheme Scotland did.
Shell Scheme Scotland hire shell schemes and set up for events across Scotland. Their sectors are one of the hardest hit by the coronavirus pandemic and they have been forced to close doors entirely. But they haven't been staying still:

They asked me to help develop a new website for Shell Scheme Scotland.
Part of the new website was a whole page dedicated to solutions to COVID-19 for the events industry, where they help their customers with handy guides, references and resources.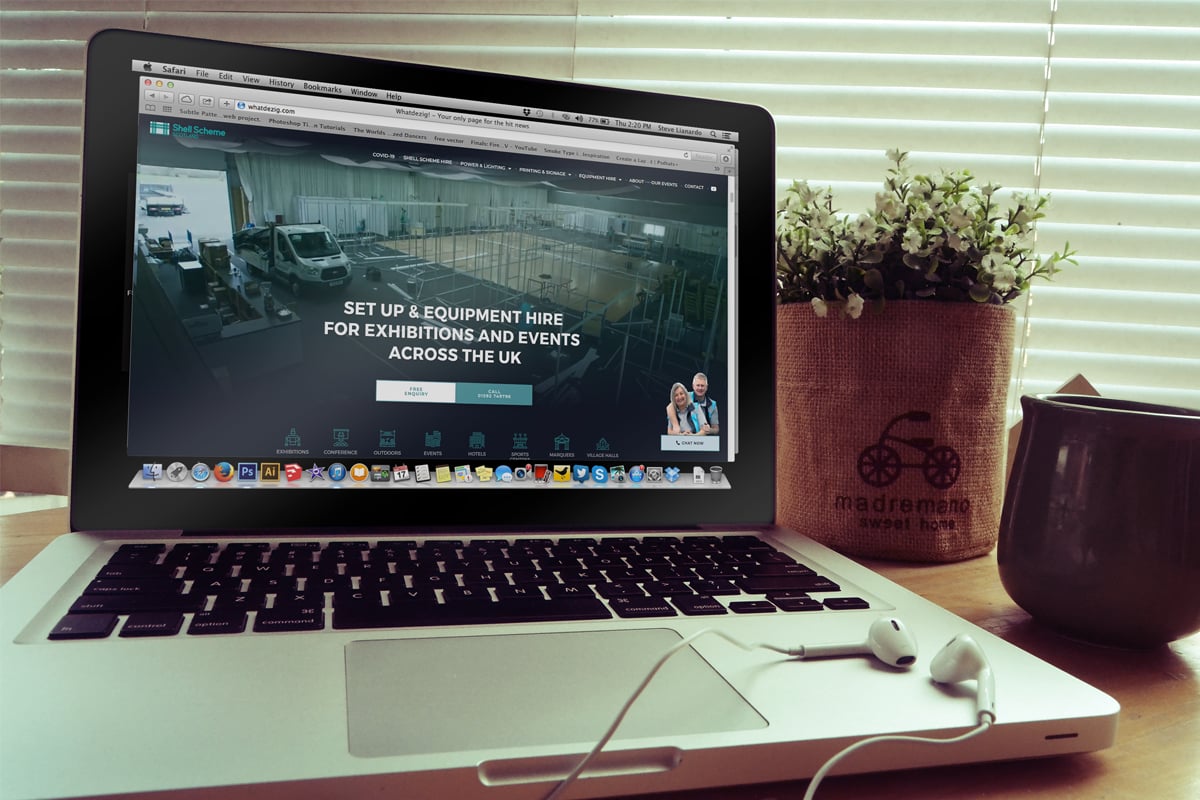 This strategy didn't return any immediate income, but instead builds a base of loyal customers who can return to Shell Scheme Scotland when they reopen.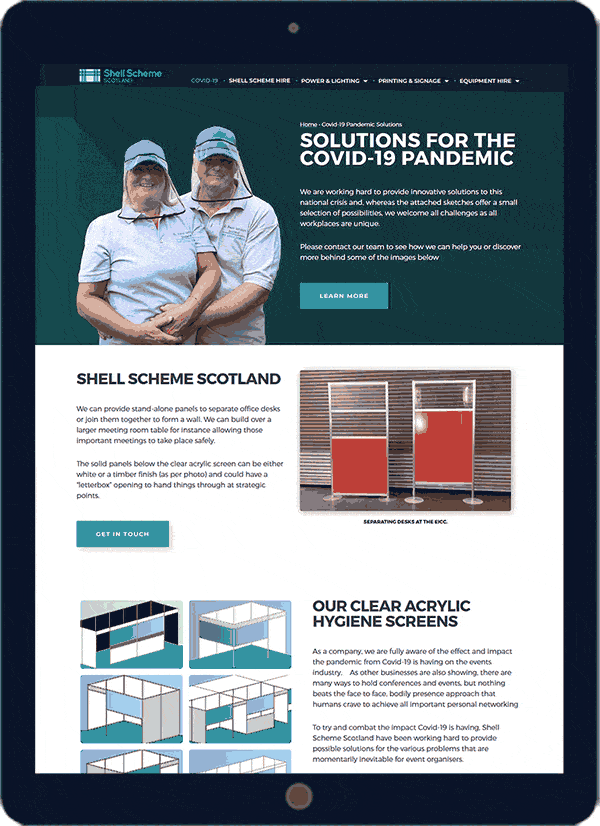 But building a new website, or even developing your existing website takes time so, act now to futureproof your website.
Here are some fresh ideas to enhance your website
2. Grow your Brand
If your website is up to date then another area of your business to consider is your brand.
What worked for your brand before may no longer work.
The market has certainly changed, and your target customers may even have shifted.
The focus of your business should shift with it, to take advantage of the new market.
This is exactly what The Badass Rules has done.
What Glow Getter did
I've recently worked with Julie Duncan from The Badass Rules in Greenock, who has built a huge following for her business offering a positive mindset paired with life and fitness coaching.
I have worked with Julie before to build a blogging website for The Badass Rules.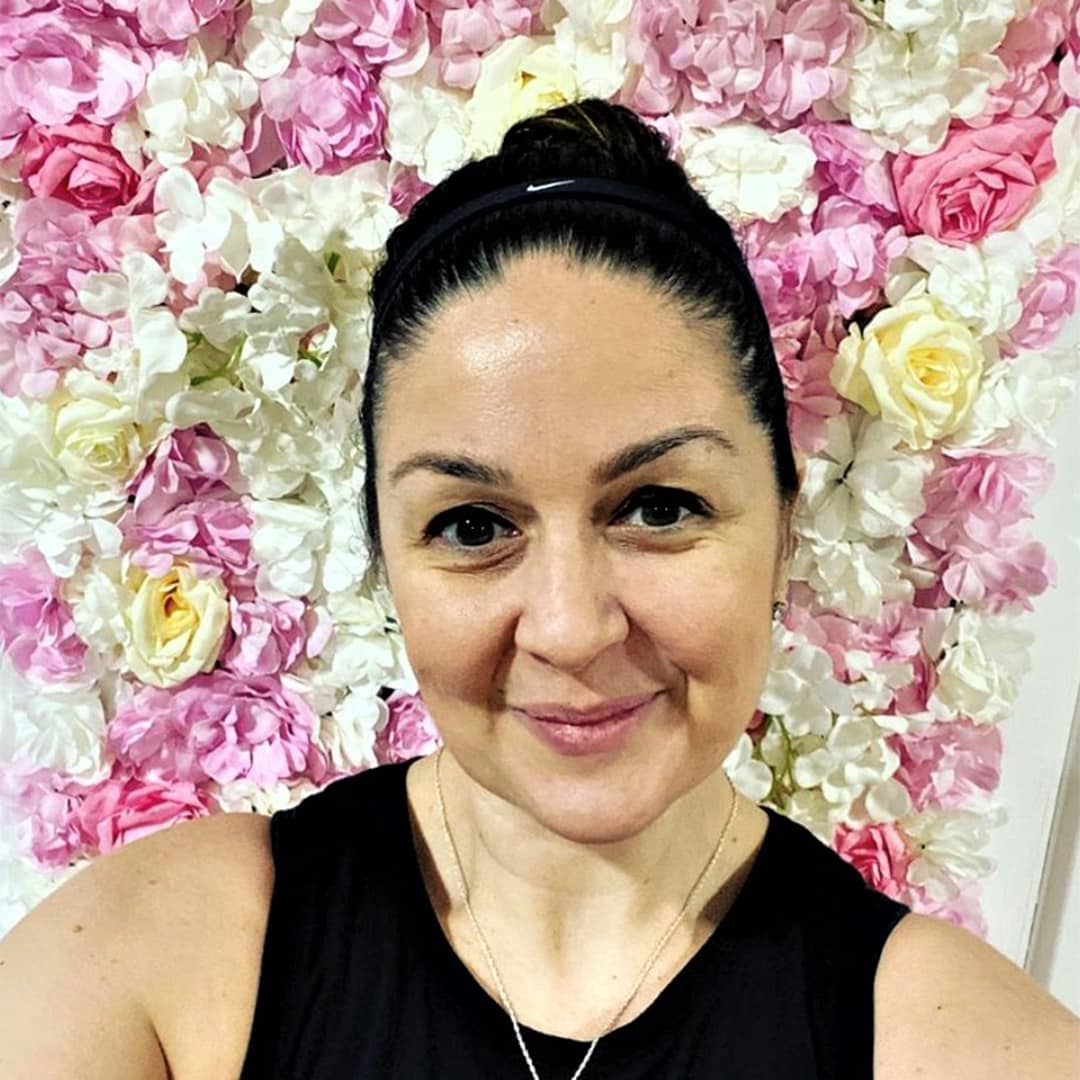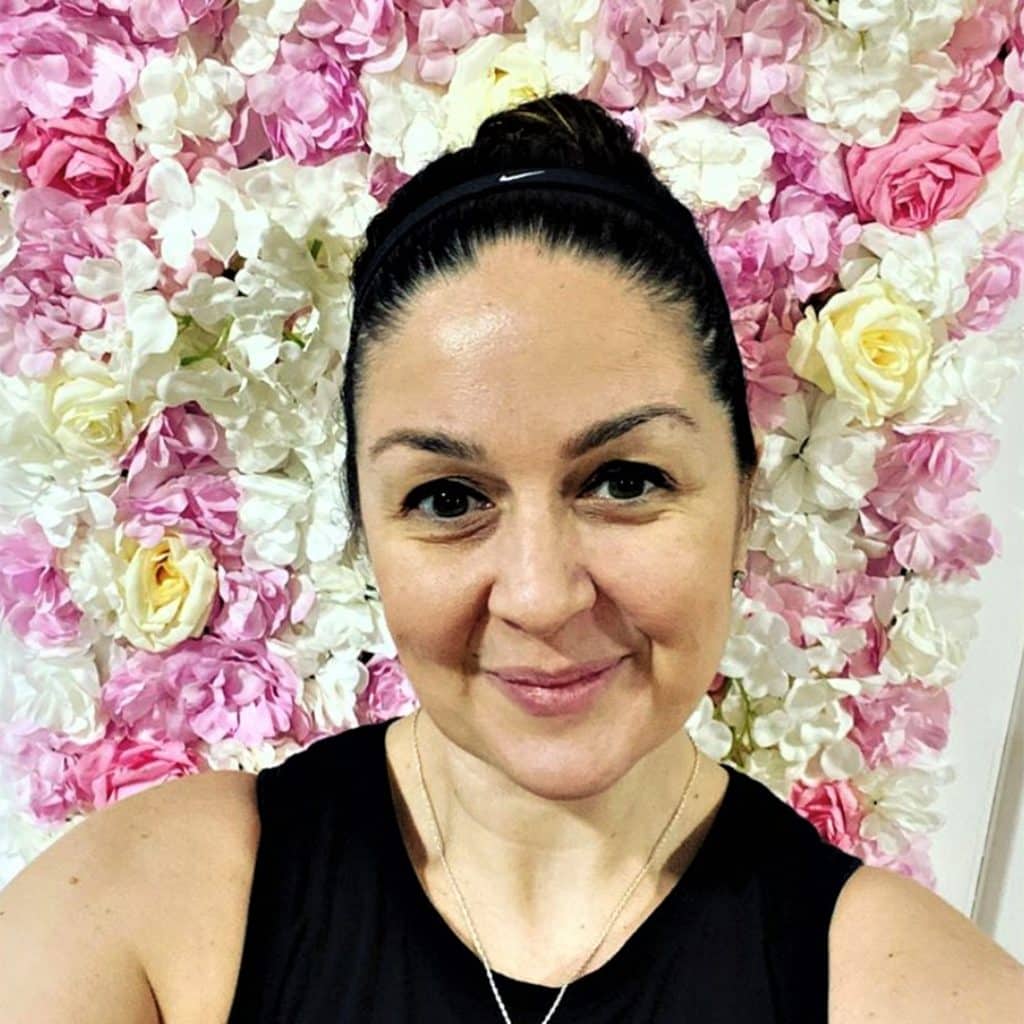 During lockdown, Julie had a bit of rare time to reflect and plan the future of her business.
With lockdown in place, Julie realized that the physical gym part of the business would no longer work and she put plans into place to digitalize her business services, and shift to focus on virtual coaching.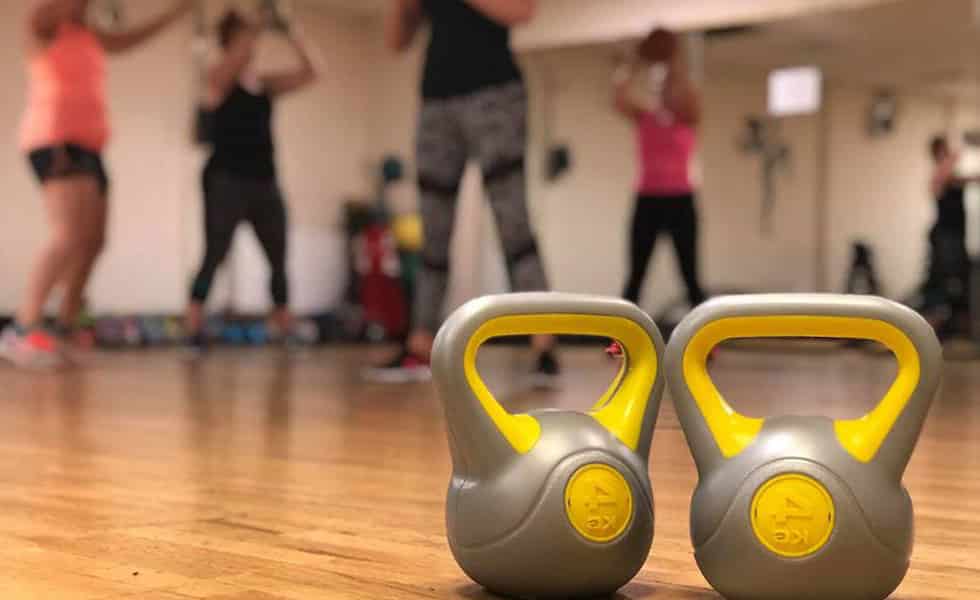 She moved to offer training virtually through Instagram marketing and live video sessions.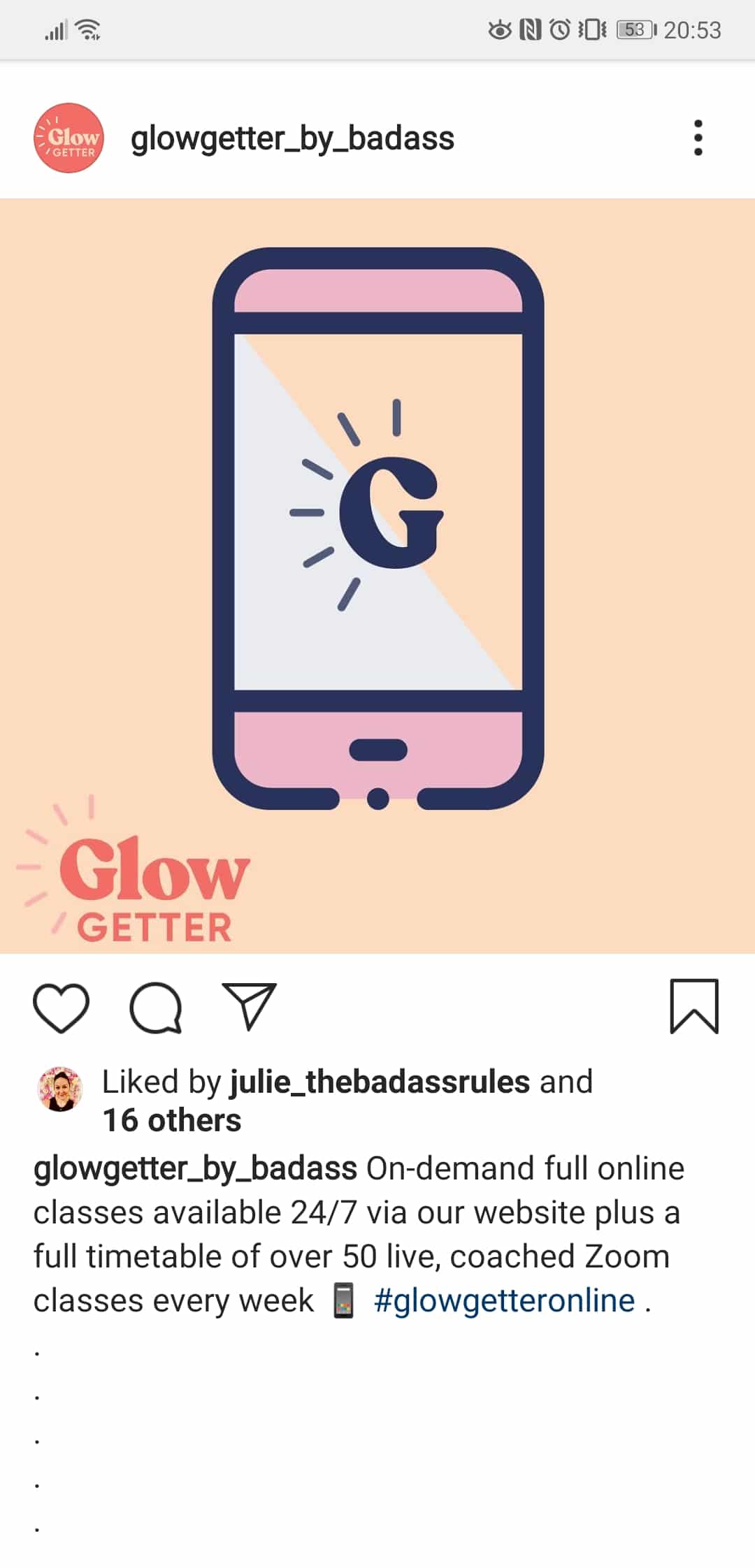 This bold move laid the groundwork for a bigger shift in her business model:
Her new business shuffle has seen a radical shift and she needed to rebrand to focus on her target customers of professional, ambitious women.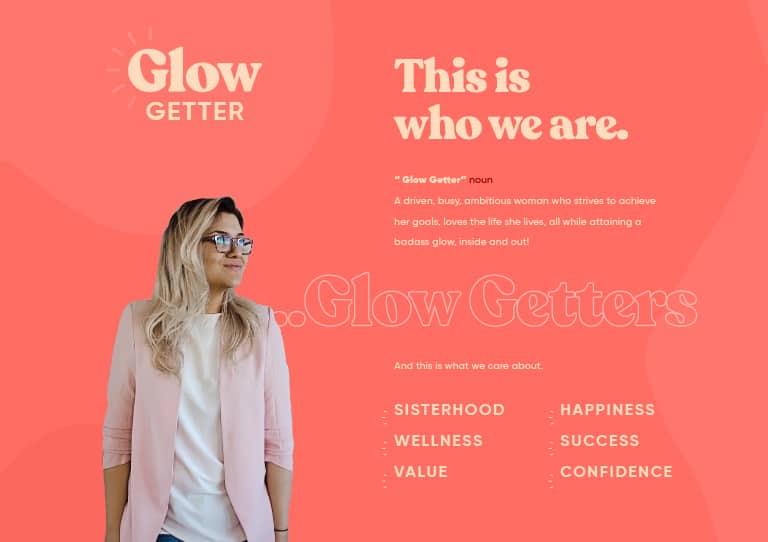 She has now fully pivoted her fitness gym business into an online coaching platform and invested in a new membership website to serve her coaching packages.
There's much we can learn from Julie's savvy business moves:
You should make sure that your brand still reflects your business and your customers. It's a good time to carry out a brand audit.
If your market has changed it could be time for a brand refresh.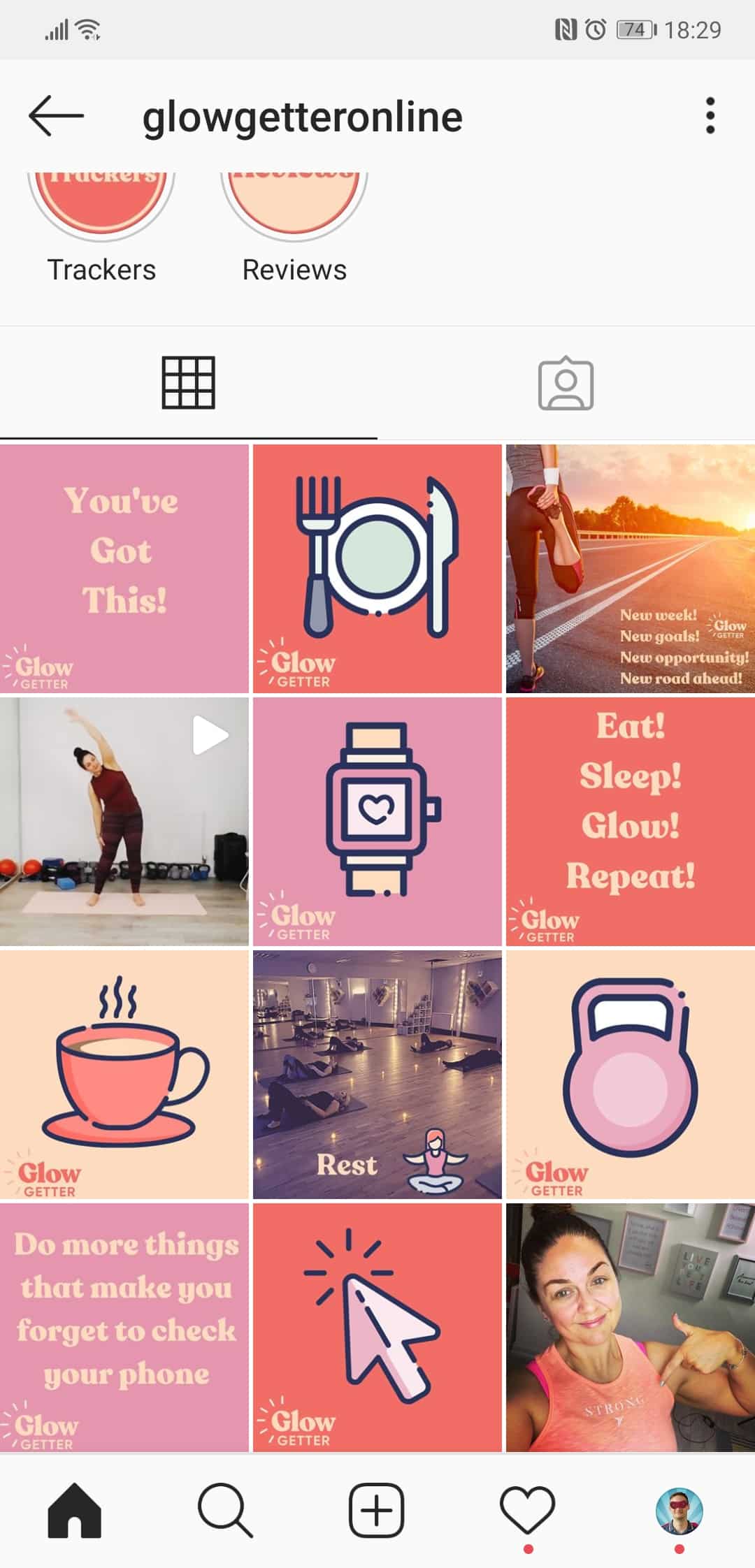 3. Run a Promotion
Running a promotion, be it digital marketing, social marketing or printed promotions is a great way to drum up new sales, and raise awareness for a grand reopening.
What Sixteen Forty Two Studios did
Sixteen Forty Two studios had just opened their new tattoo studio in Anniesland, Glasgow when lockdown tragically foreced them to close. Tattoo Studios have the longest restrictions on reopening after COVID-19 and it was a huge blow.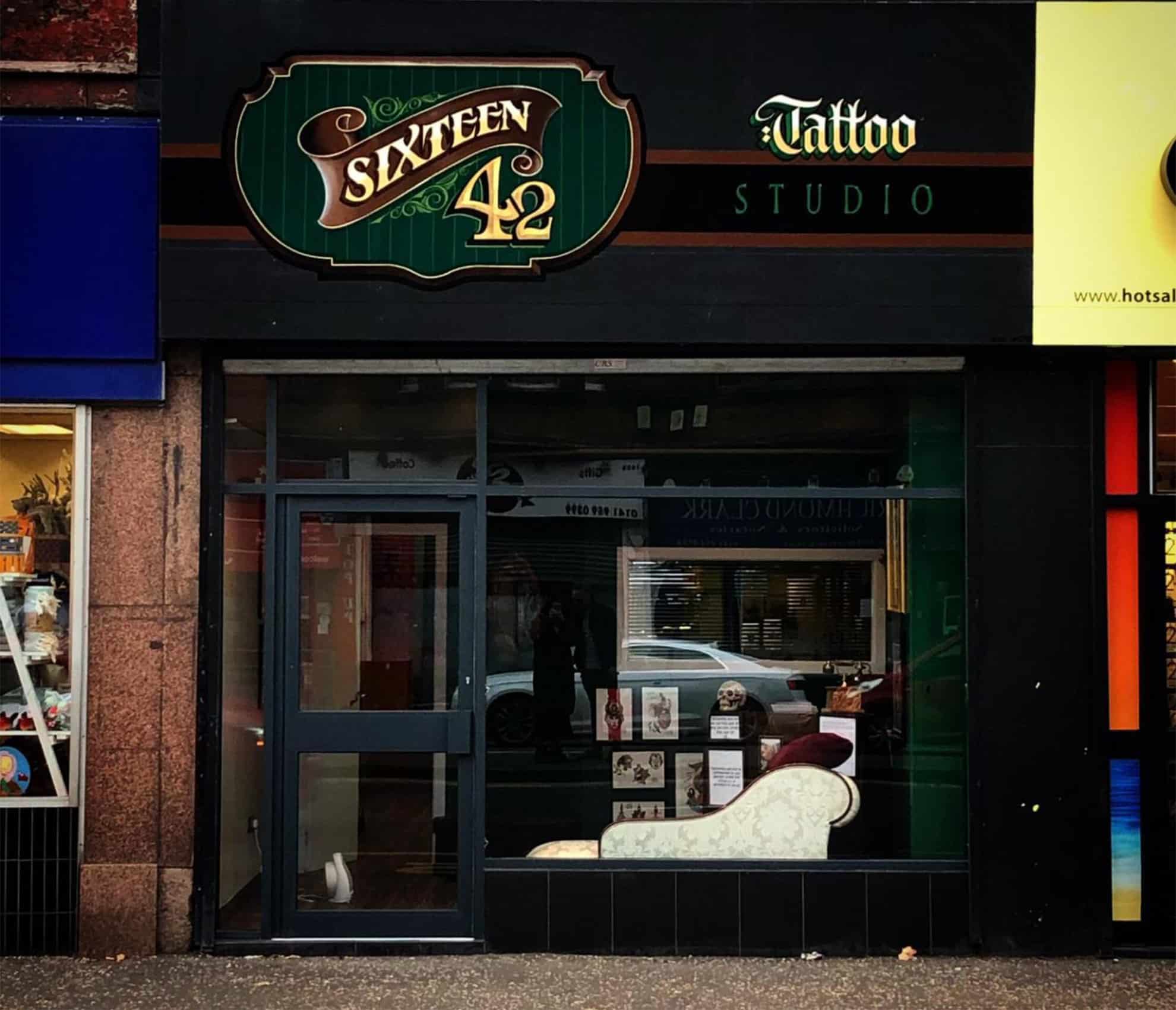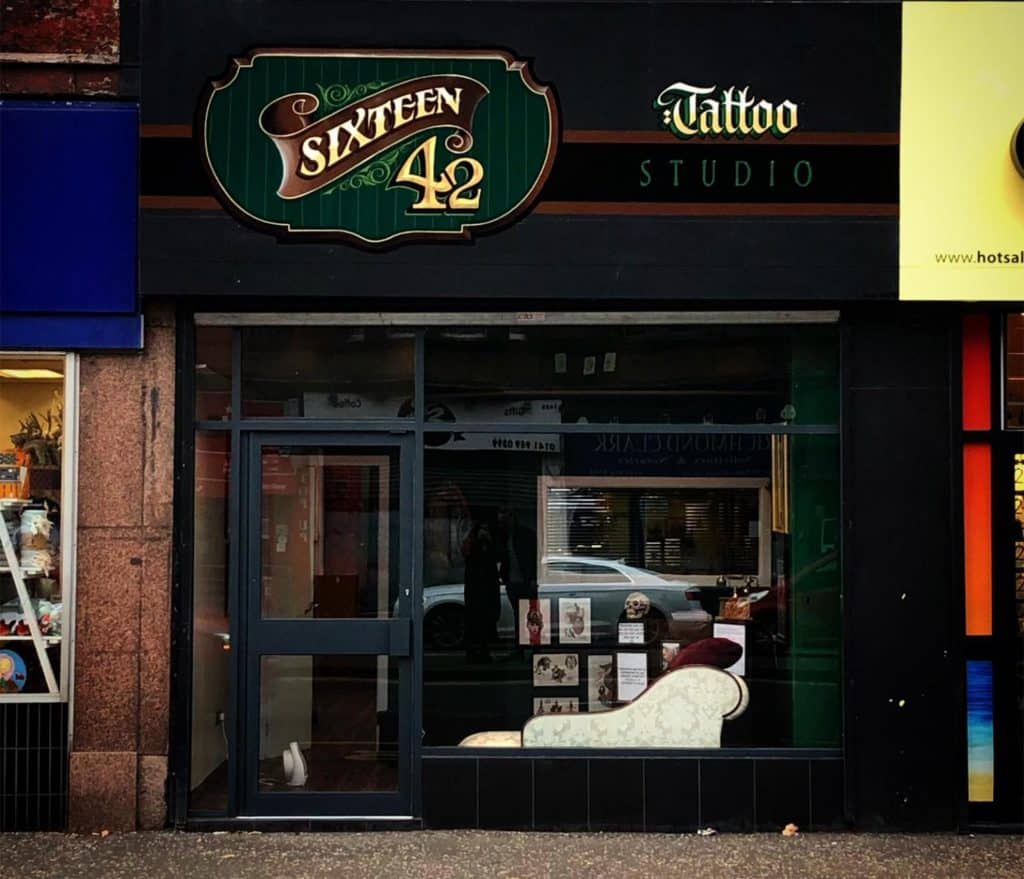 The only thing Neil and Megan could do was prepare for reopening:
While the store was closed they moved to sell their designs online as prints, to provide passive income, and continued to drum up interest and prebook tattoo slots in preparation for a grand reopening.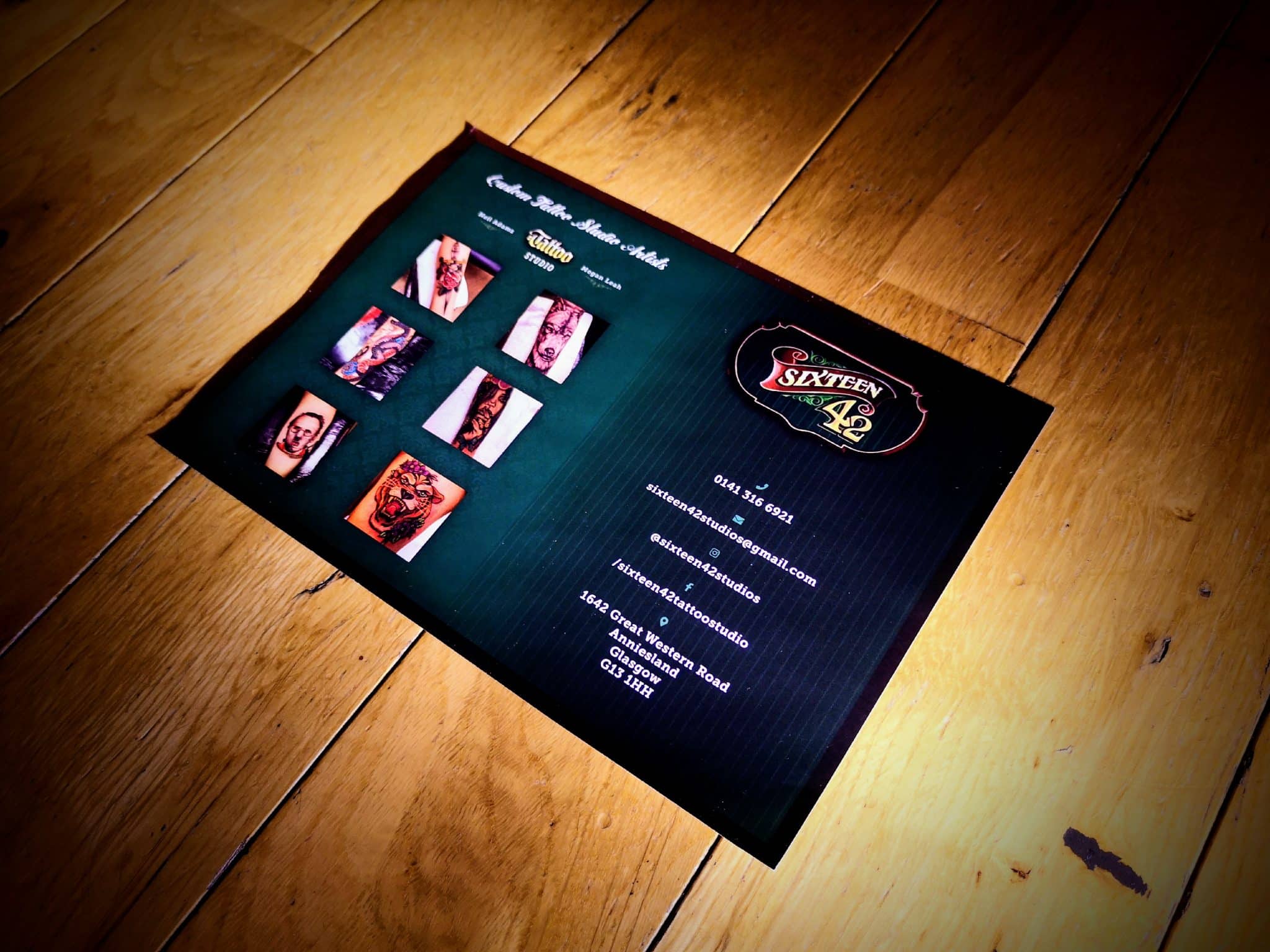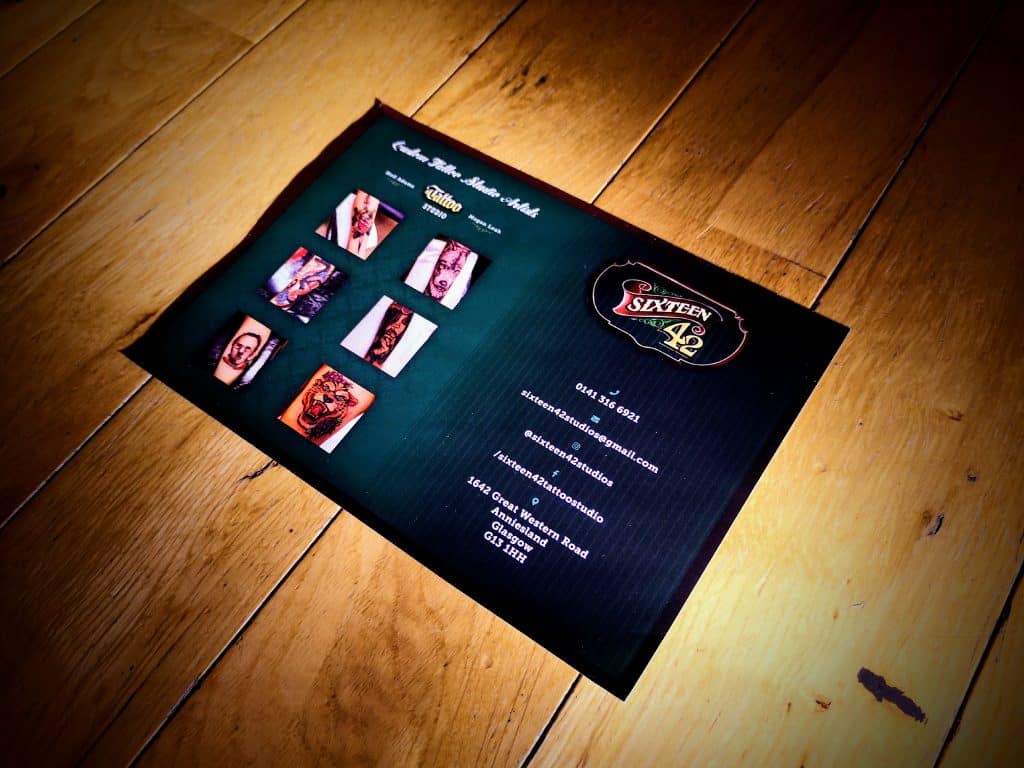 Part of this reopening strategy was a series of custom designed flyers and printed discount vouchers.
They now have a great buzz for reopening the studio, along with hundreds of pre-booked appointments.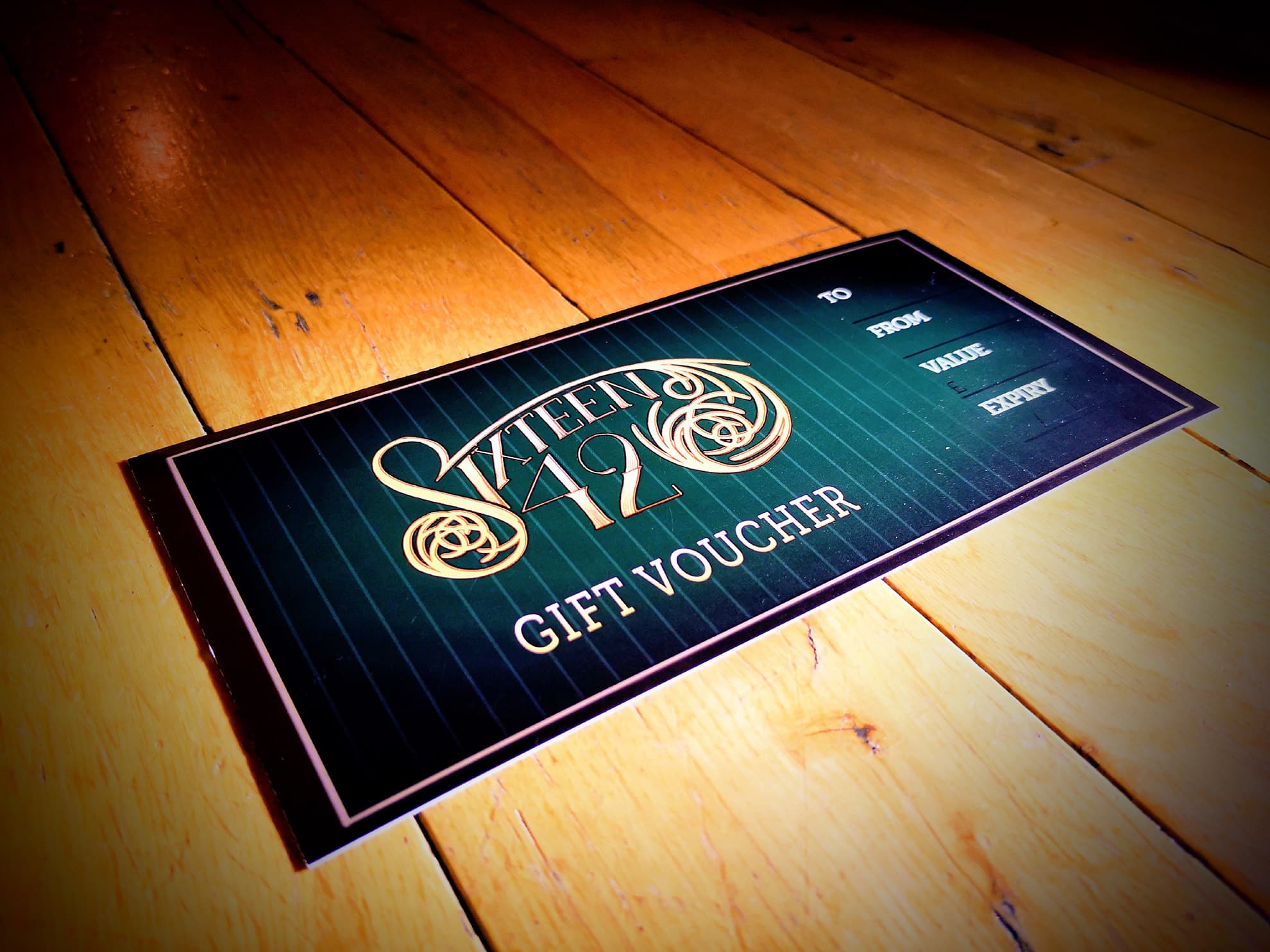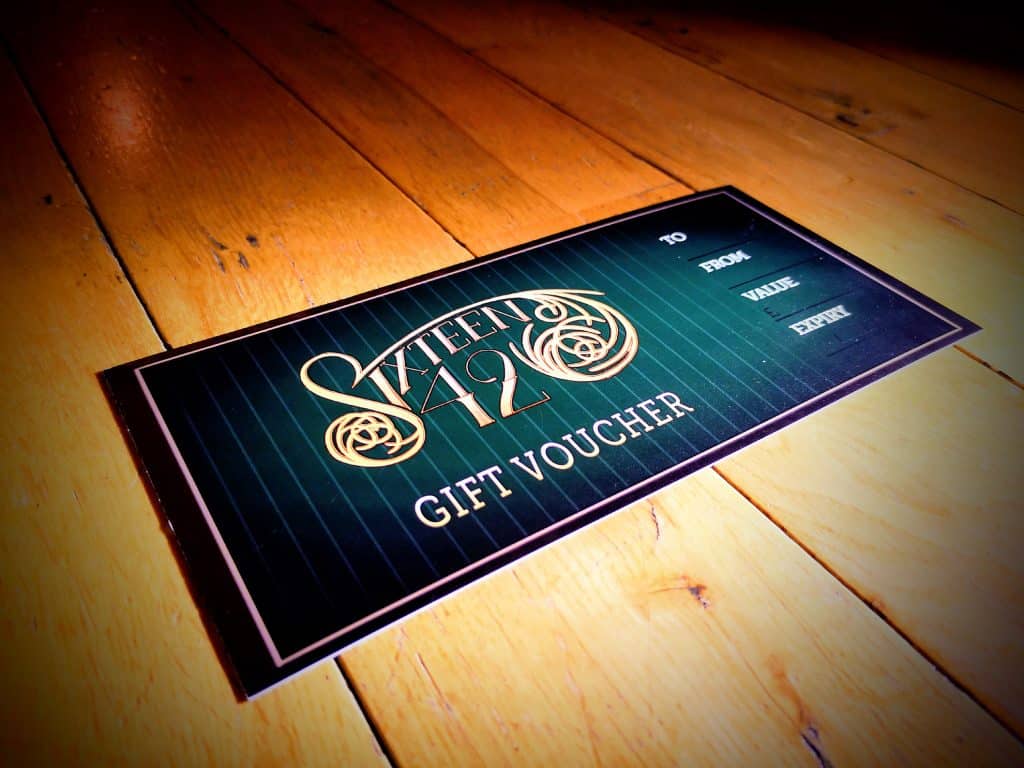 Even though they can't ply their trade for the next few months, they can scrape by on their income from printed designs, and have secured their income for reopening.
Pro Marketers are Proactive
We've looked at a tattoo studio, an events business and an online coaching business.
So what do all three of these businesses have in common?
Their approach to COVID-19 was Proactive:
They didn't wait until they were allowed to open to start marketing their business.
They put plans in place, and started their marketing now so that they have the customers when they return to work.
Here are the three main learning points from their experiences that you can do for your business:
Check your website is up to date; it's a great time to do a bit of renovation.
Compare your brand to the market; Make sure your brand still reflects your business and your customers
Run a promotion: event if you can't provide what you're selling until later down the line it will generate a buzz for your business.
Get your business fighting fit for after COVID-19
I hope these three case studies help inspire you and kickstart your plans for preparing your business for after COVID-19.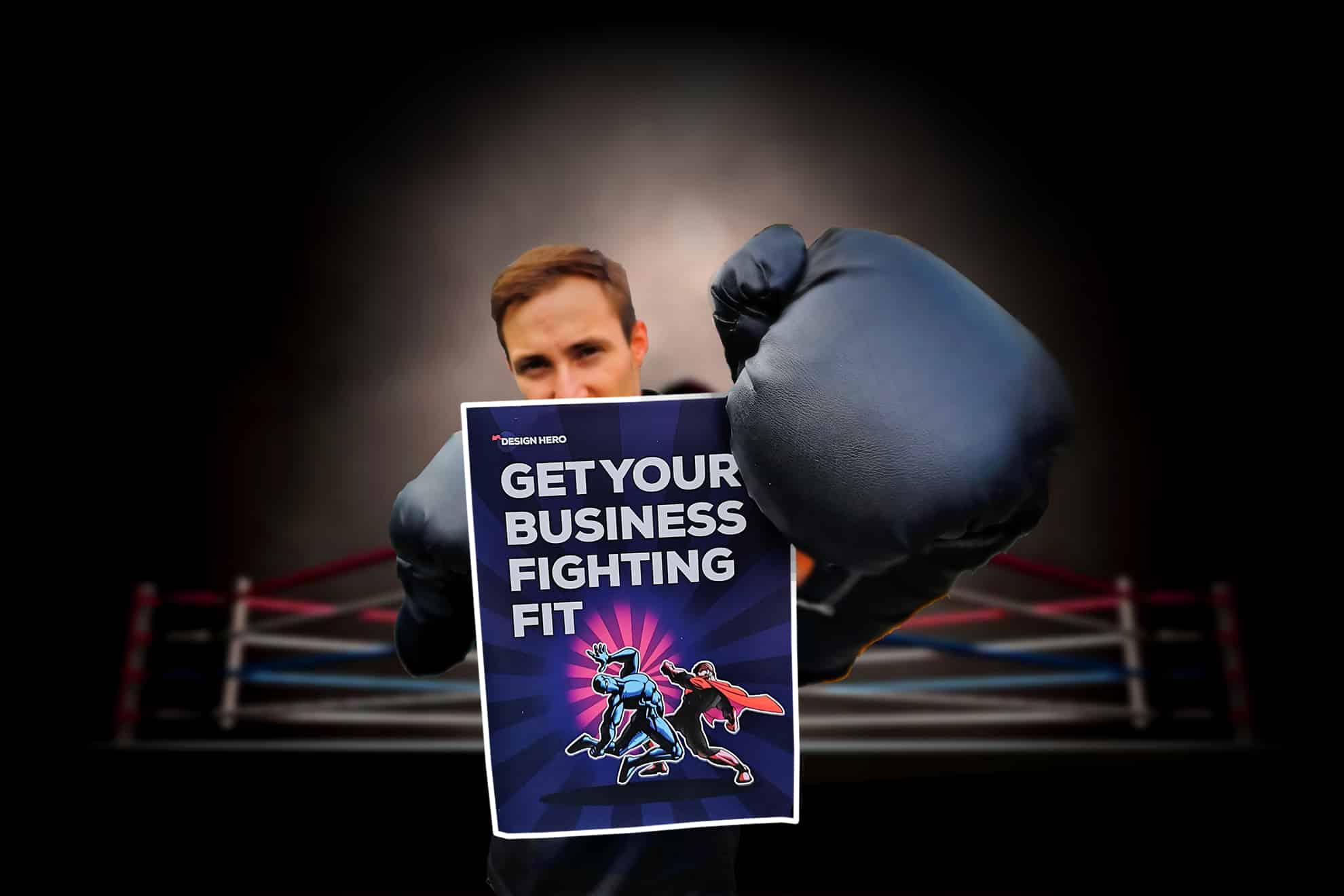 Remember: no matter what you do, make sure you come out of COVID-19 swinging for the fences, and don't wait untill your business is on the ropes to start marketing.
Because by then it's too late!
Put plans into place to secure your future business growth.
As always, if you have an idea for your business you'd like to discuss, get in touch with Design Hero and I'll be happy to help!