How Updating your Own Website will Benefit your Business
Have you ever had a job which you knew was important yet somehow never got round to doing it?
We've all done it at some point:
Refill the wiper fluid in the car, fix that lightbulb, renew that insurance.
But Sometimes things just get in the way;
There's always another client to chase, or another phone call to make.
It's easy to completley forget about our business website and then before we know it, months have gone by and you haven't even looked at it. Or even Years!
It's not enough to launch a website then forget about it.
You see, a good website is a bit like a sailing yacht…
If you want to achieve any kind of positive direction, then you need to make regular small adjustments to steer your business to success.
But when done little and often, updating your website is an easy task which can effortlessly take your business to all sorts of new places, with very little input or effort.
In fact, updating your website regularly is one of the best ROI you can do in marketing
Keep customers up to date
Perform better on Google
Reach new customers
But this means updating your website, editing your existing content and adding new content on a regular weekly or even daily basis.
Why Many Businesses Outsource their website management
There are several reasons why business owners don't think they can edit their own websites:
Not enough time.
Don't know how to edit the website.
Scared of making mistakes.
Cant sign in to the website
The most common reason I hear, is that business owners are just time poor, and the time spent updating their site is best spent elsewhere in the business, rather than learning how to update the website.
If that's the case then I am happy to help out with all sorts of changes to your website.
But I'm also going to tell you something that most web designers won't:
There are lots of small changes to your website that you can quickly and easily do yourself via CMS platforms such as WordPress.
What counts as a simple update?
Changes to text
Swapping Images
Creating new pages
Changing details and information.
Updating products or services.
If you think your updates will involve more than simple changes to content, you may need web development.
At Design Hero, I work with business owners so that they can maintain their own sites, and reach out whenever they get out of their depth or need a bit of help.
This is a far more sustainable relationship for both parties!
There are a number of reasons why you will want to be able to make these changes yourself: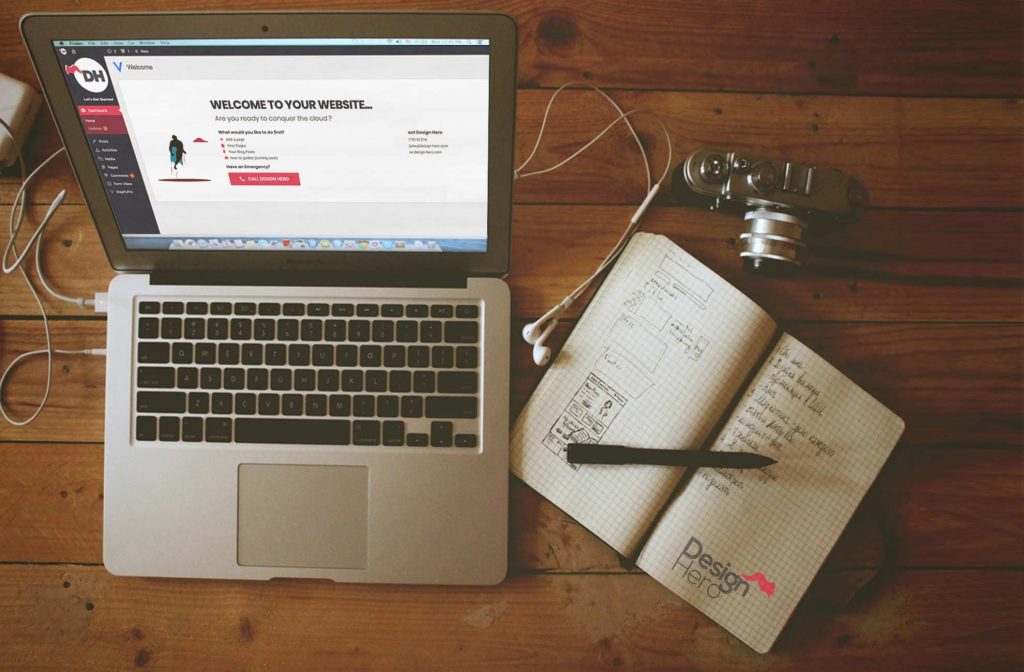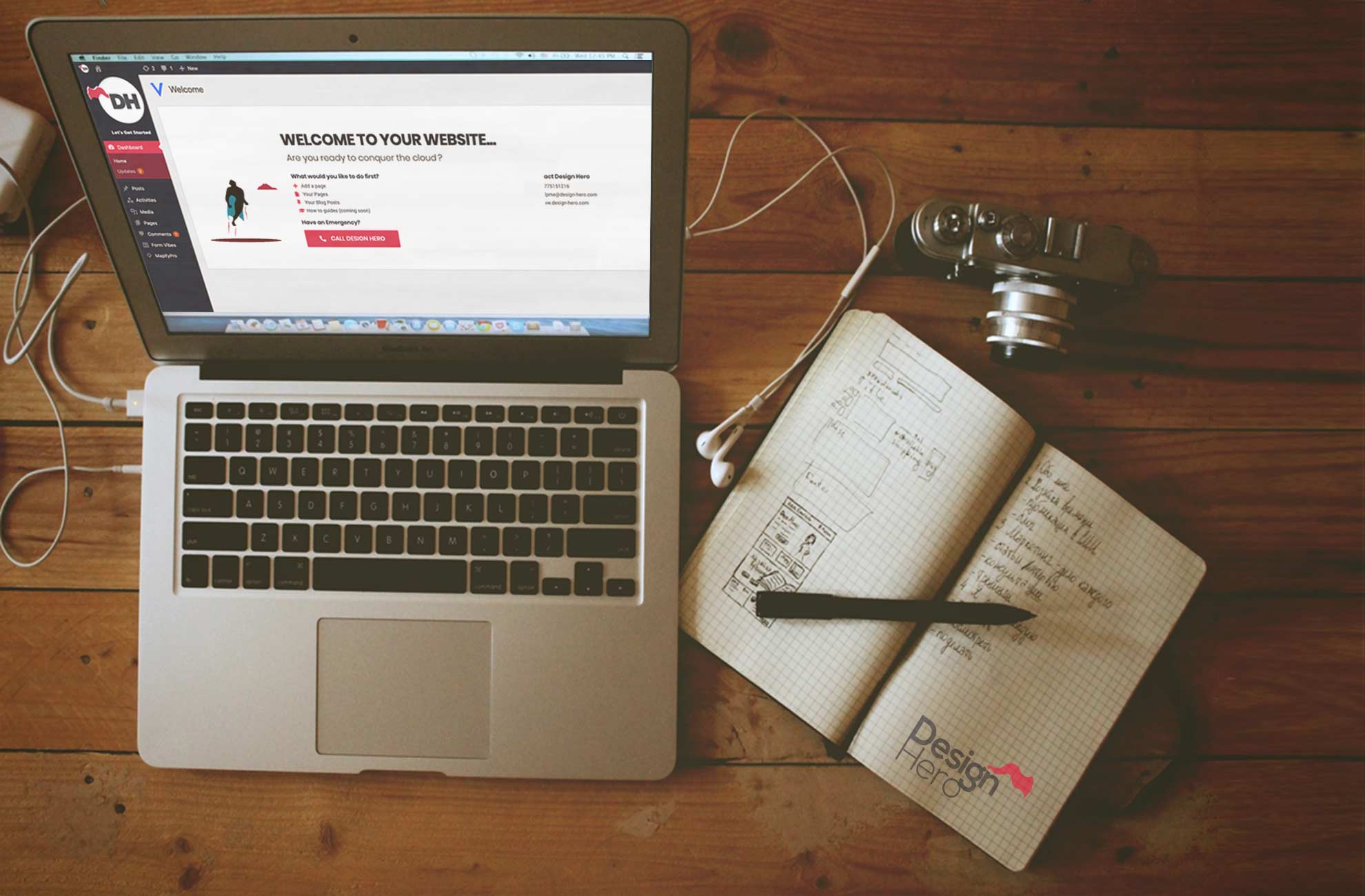 The Benefits of Maintaining your own Website
There are numerous reasons that you might need to update your website. The simplest is that your business or market has changed:
Keep your Customers up to date.
Make sure that the information on your website is kept relevant and update to date.
There's nothing more embarassing than a customer pointing out mistakes, or claiming discounts and deals that no longer exist.
Changing information such as contact information
Changes to products, services or blog content.
Changing styles or culture.
New customers
New markets or products
There is another reason which is easily the most important:
Fresh content and regular updates aren't just for outdated information.
Google rewards sites with fresh content
It's essential to keep your site updated regularly to help your rankings on Google.
Google likes fresh content, so it's important to refresh your website regularly.
By keeping your site updated regularly, you are improving your site's visibility on Google.
More visibility means more sales!
Save Money
Armed with just a very basic knowledge of how to manage your own website, you can save a lot of expense in the long term:
You don't want to have to go back to your web designer with cash in hand every time you want to change your prices, or update your staff page.
Instead, save time and money and make these small changes yourself.
If you want to make larger changes or add extra functionality to your website you may need to look for quotes for web development.
Your first port of call should be whoever designed your current website. This is most likely whomever is hosting your website.
Unless…
If you finding your current web designer or developer is struggling to meet your requests, or dragging their heels, it may be time to bite the bullet and look for someone more competent. Of course, I would be happy to provide a web design quote 😉
If you're looking to update your site just get in touch. It doesn't matter if your site was designed and built by someone else, I'm happy to help!
There is another advantage to not putting all your eggs in one basket:
Web designers come and go. If you know how your site works then you won't be left in the lurch if your current web designer is hit by a bus.
🚌 (it wasn't me, promise!)
If relying solely on your web designer doesn't sound like a sustainable long term plan to you either, then read on…
How to Manage your own WordPress Website
For some just idea of editing your own website sounds like a terrifying concept.
In years past "web design" involved very little design, and rather meant a whole lot of coding.
Nowadays this has largely been replaced by graphical user interfaces and user-friendly editors such as those found in WordPress Websites.
Are you a self declared "technophobe"?
Fear not! if you can work your way around a Word Processor, then you can update your own website.
If you don't think your techno skills are even up to that, then call my emergency line and I'll get your website sorted out for you! 😂
Call Design Hero 📞07775151216
The Idiots Guide to Updating a WordPress Website Starts here! 👇
If you have a bit more time on your hands then there's no reason you can't manage your own website.
Want to maintain your own website but don't know where to start?
Technophobes rejoice!
I've prepared a handy idiots guide for maintaining and updating your own website below.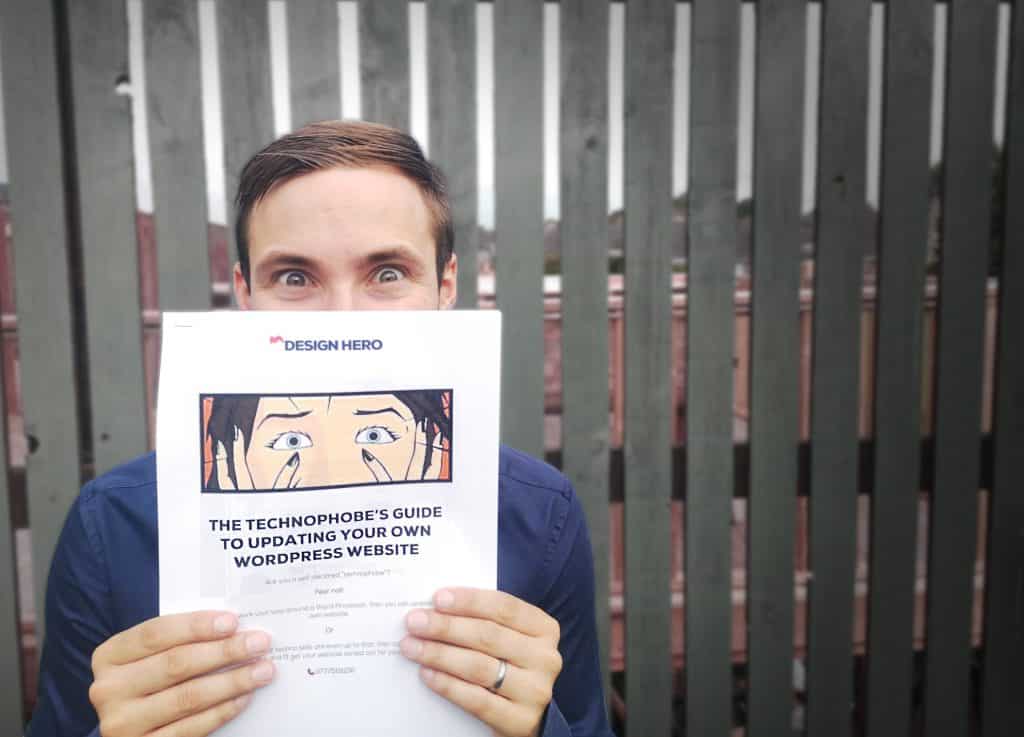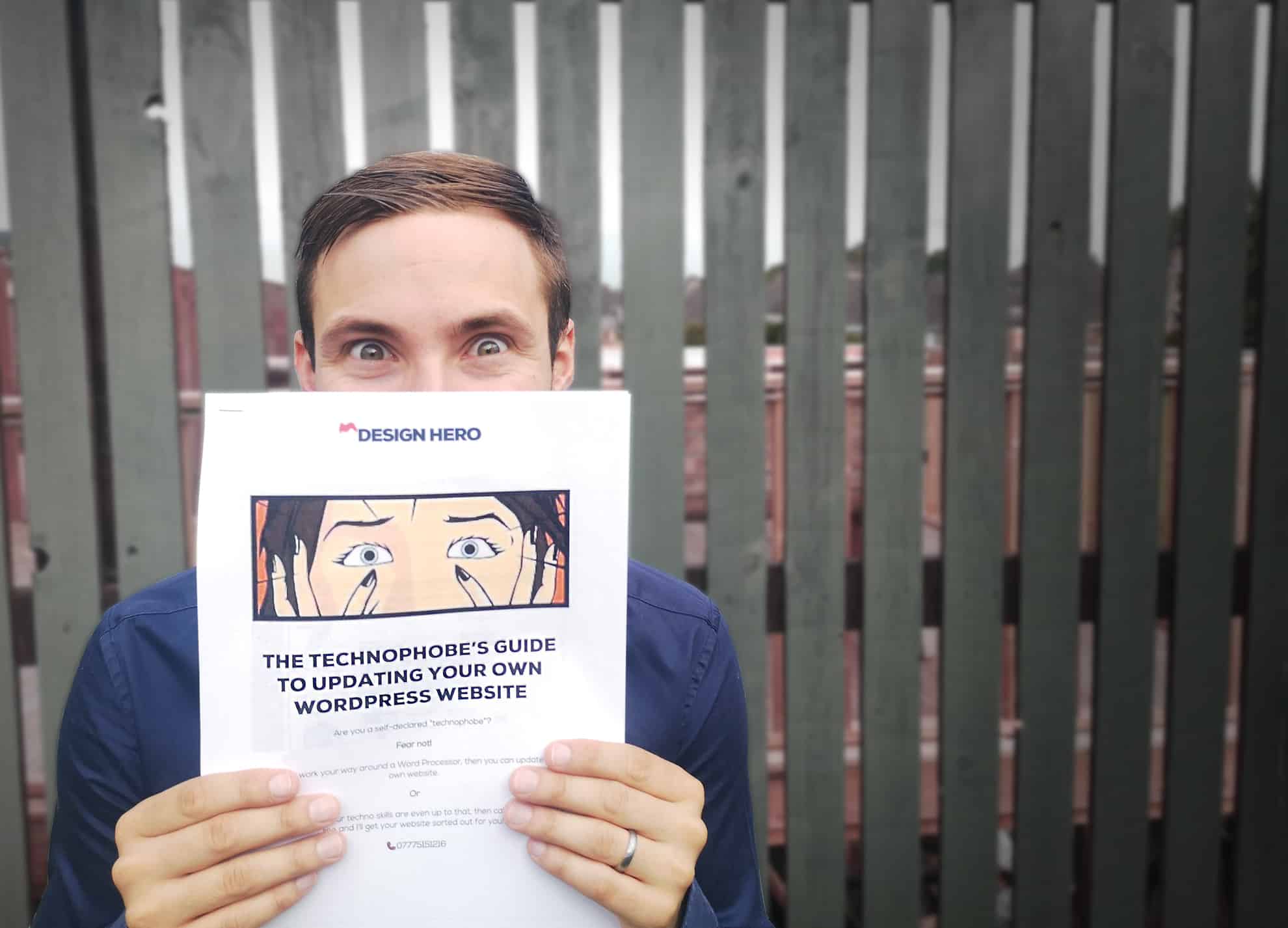 In a hurry?
Download my Technophobes Guide to WordPress to read in your own time!
In my guide, you'll find that the beauty of a WordPress website is that adding new posts, refreshing your content and even making small changes can be done without any technical skill or knowledge.
This handy guide will show you how to maintain and manage your own WordPress site, from logging in, to adding new posts and pages.
Note: I've adapted this guide for my clients: A Design Hero website comes packed with extra bonus features as part of the extra value I offer to my clients, with a customized dashboard and a full featured visual builder to help you create beautiful posts.
But don't worry!
Even if you're not on a Design Hero website, you can still use these instructions for any WordPress website.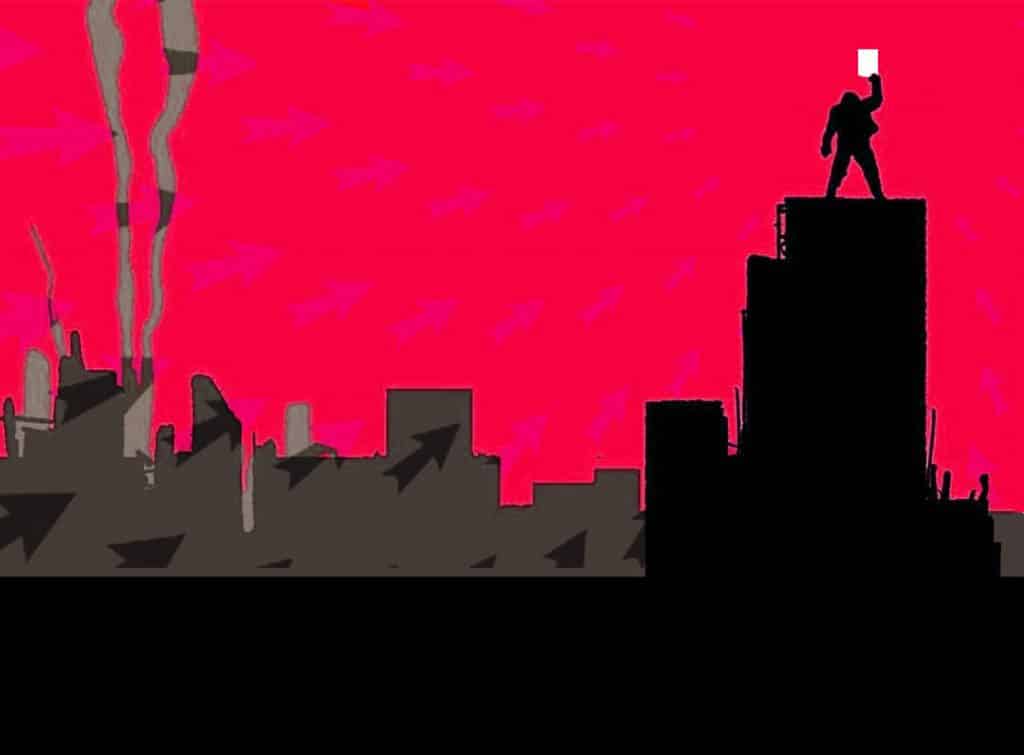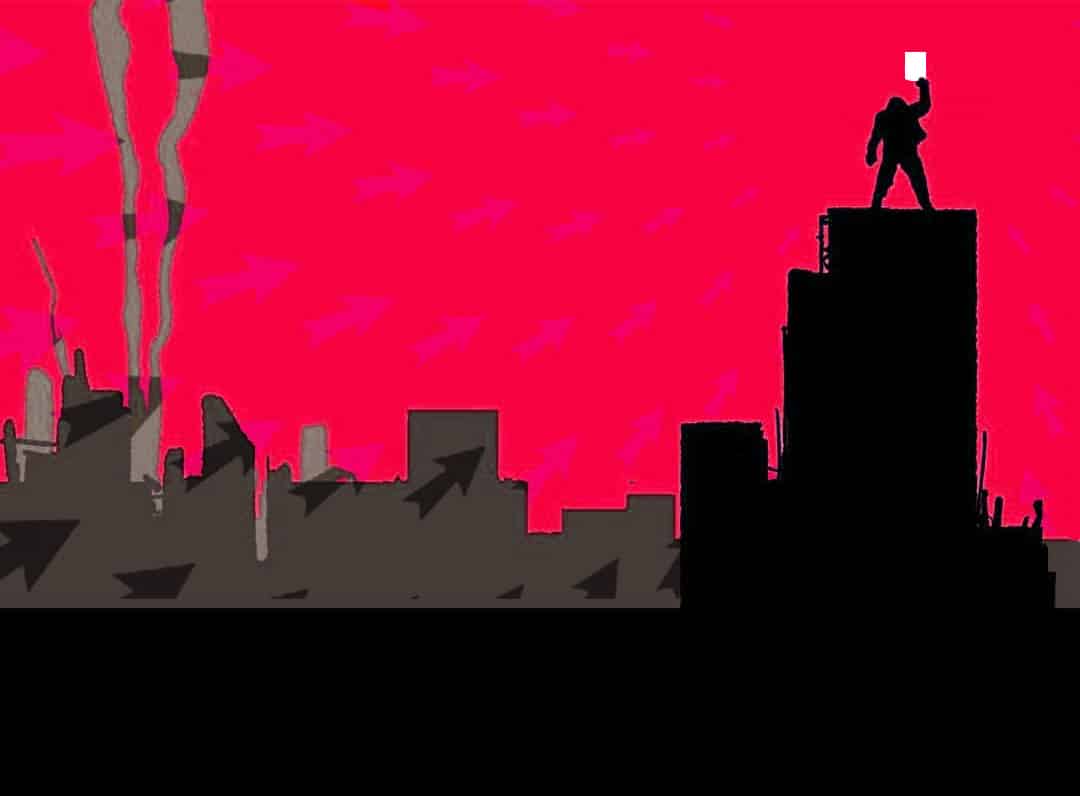 Your dashboard might look a little different, but all of the buttons and menus are in the same place.
How do I Log in to my WordPress Website?
So let's get started:
The first step to updating your site is to log in to your website dashboard so you can make changes.
How do I access the back end of my WordPress website?

To access your website dashboard visit your domain url followed by /wp-admin
example: www.mywebsite.com/wp-admin
How do I log in to my WordPress dashboard?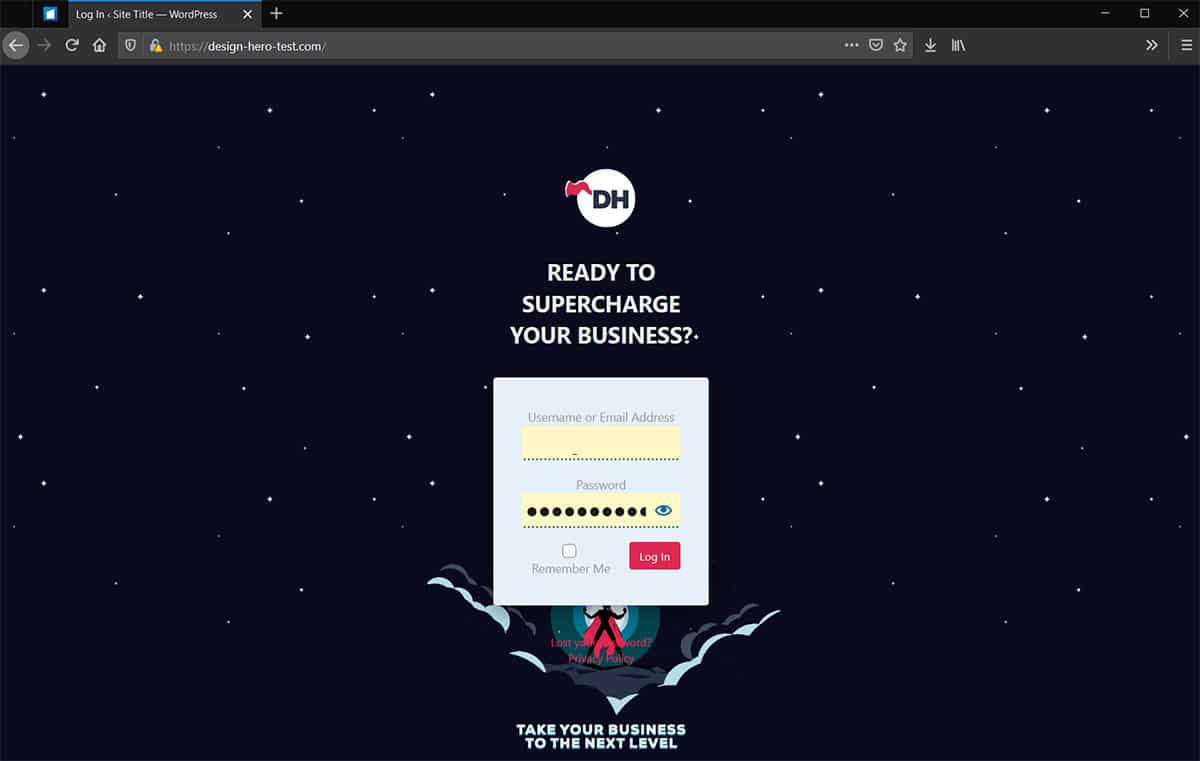 visit your website followed by /wp-admin eg www.youramazingsite.com/wp-admin
you can now login using your:
– username or email
– password
How do I use the WordPress Dashboard?
On logging in you will find your Dashboard. It looks something similar to this: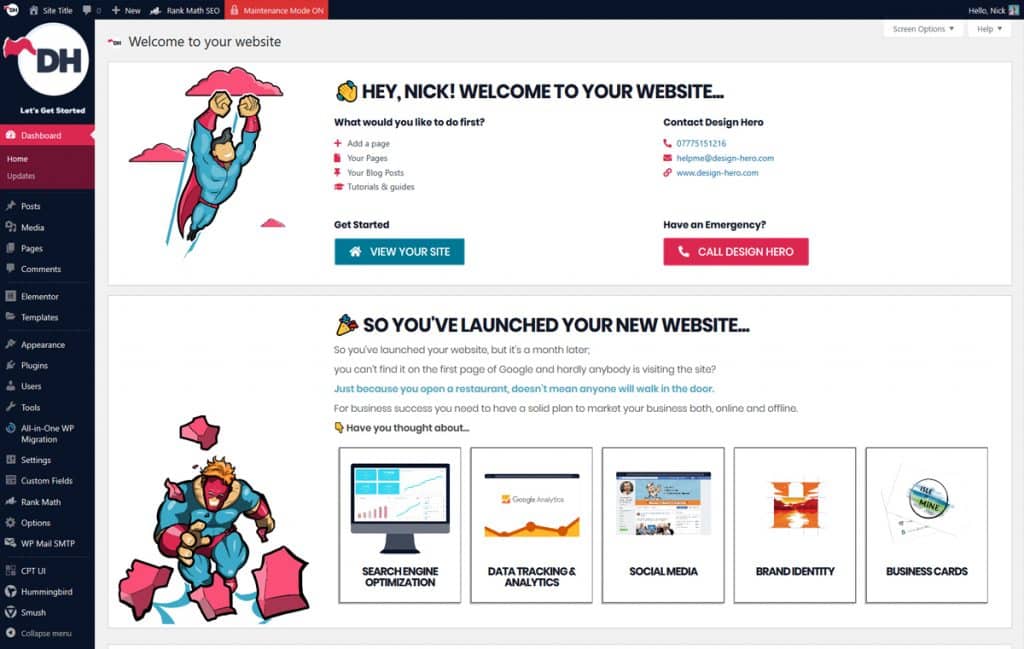 This is your WordPress Dashboard.
Here you can update, maintain and manage your whole WordPress site.
There's a lot of things going on here, so let's break down each part of the WordPress dashboard in more detail.
First let's look at the Topbar and the Sidebar menus.
The Topbar
The Topbar can be found…wait for it…
Along the top of the dashboard.

This menu has shortcuts to common actions:
Handy Shortcuts
Visit the site
Add new posts
Update your pages
The Sidebar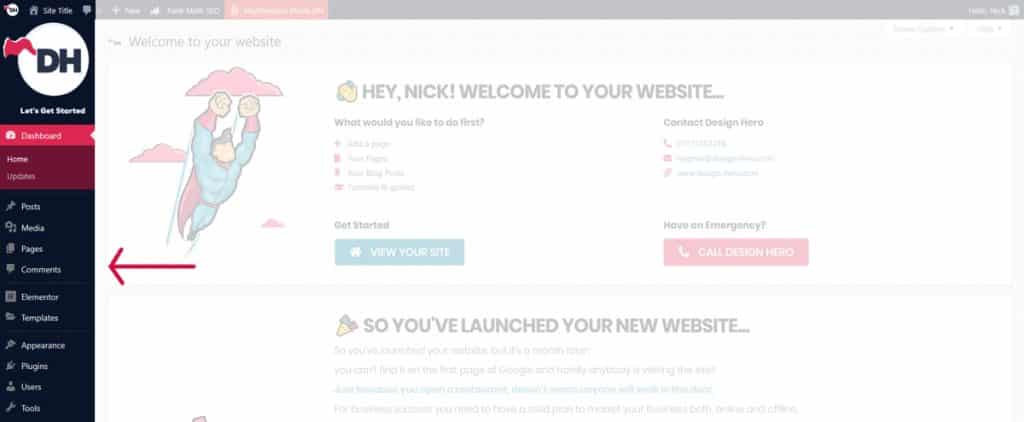 The sidebar on the left is where you can manage all elements of the site such as:
Pages
Posts
Comments
Site Settings
Media
What are Dashboard Panels?
We've looked at the menus on the dashboard; the topbar and sidebar
Now let's look at the panels in the mean white area of the dashboard.
On a Design Hero website you will find several extra panels: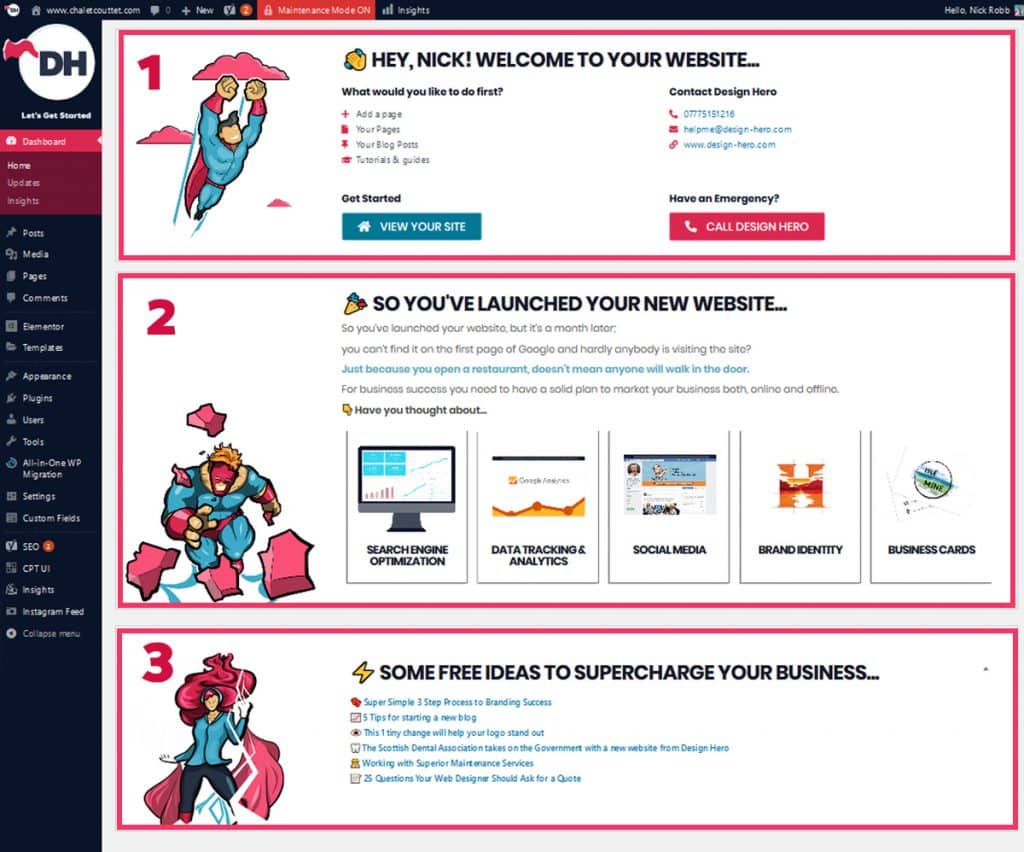 1. The Welcome Panel
Here are some of the most useful shortcuts on your dashboard. Here you can get started with these handy shortcuts:
What would you like to do first?
Add a page
Add a post
View your website
Support
There are also some handy links to contact Design Hero if you get stuck.
2. The Marketing Panel
So you've launched your website, but have you thought about your marketing?
Here you'll find lots of fresh ideas to help you boost your marketing.
Each thumbnail links to a handy guide for each marketing technique
3. Business Tips Panel
This panel supplies you with the latest posts from the Design Hero blog: Here you'll find quick and easy marketing tips as well as fresh ideas for your website!
How Do I Update Posts and pages?
The beauty of a WordPress website is that you can easily add, delete or edit posts and pages on your website from a visual editor on the front end of your dashboard. This means you can regularly update your website with fresh content, and make sure that your customers are getting the right information.
What's the difference between a Post and a Page?
Pages on your site appear on your main menu and tend to be more static information. Posts are regular updates and appear on your blog archives.
Pages on your site appear on your main menu and tend to be more static information
Example: "About Us", "Contact"
Posts are regular updates, and appear on your blog archives
Example: "5 tips for landing pages that convert"
So now that we know the difference between posts and pages, here's how to edit and add posts and pages to your website. This process is the same for both pages and posts:
How do I add posts or pages?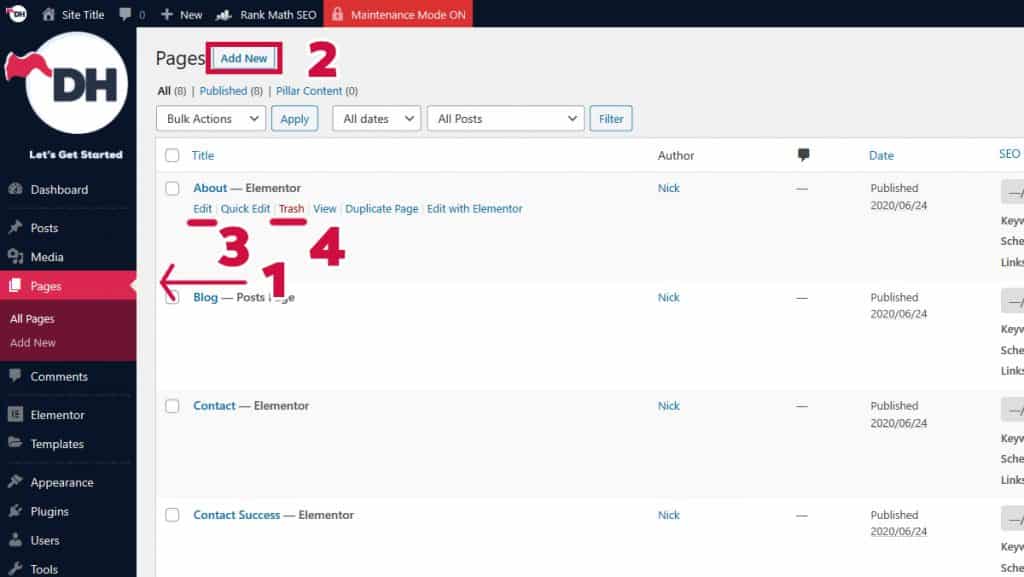 1. On your dashboard, navigate to your posts or pages via the sidebar. On the pages or posts dashboard you can:
2. Add a new page
3. Edit a page
4. Bin a page
Clicking on any page or post will take you into the post editor screen.
Note: You can also reach edit a page by visiting the page on the front end of your site, and clicking "Edit Page" from the Topbar
How do I Edit posts and pages?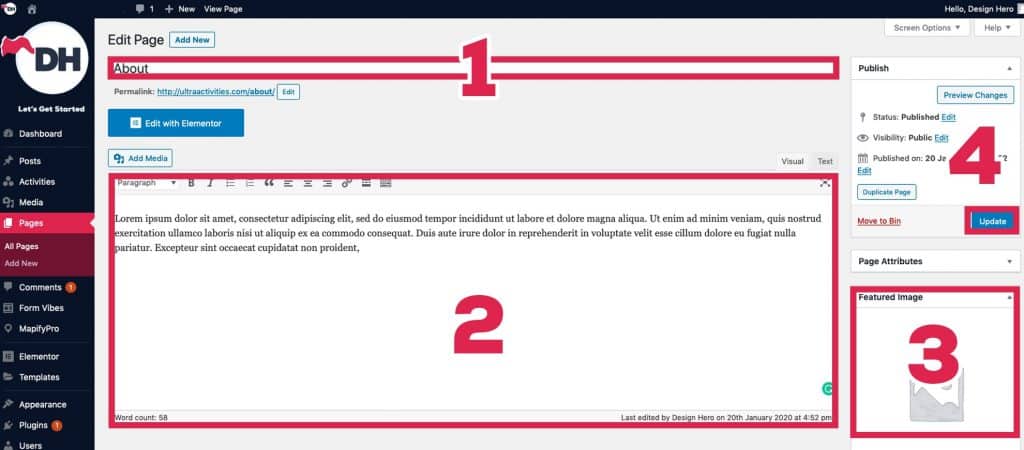 You can now make changes to the page within the Post Editor.
 
you can:
1.        Add a page title
2.      Add, and format basic text and media. The visual editor let's you format text, add styling and media to your content.
3.      Add a featured image
4.      Remember: after you've finished with edits, save the page
This information will then be displayed on the front end of your website. You can see how the information on the Post Editor is shown on the front end of your website.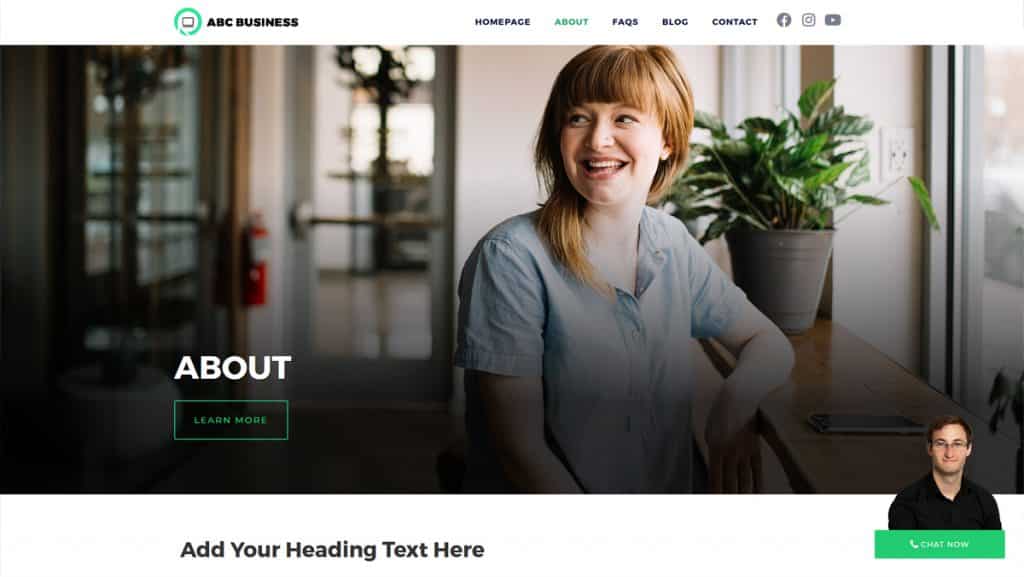 How do I use Elementor to make changes to my Posts?
Design Hero websites also come with a pro visual editor installed called Elementor.
Elementor is visual drag and drop editor which makes it easier to make advanced changes to your pages and create more creative layouts and posts.
Elementor can only be used on certain pages.
How do I create posts with Elementor?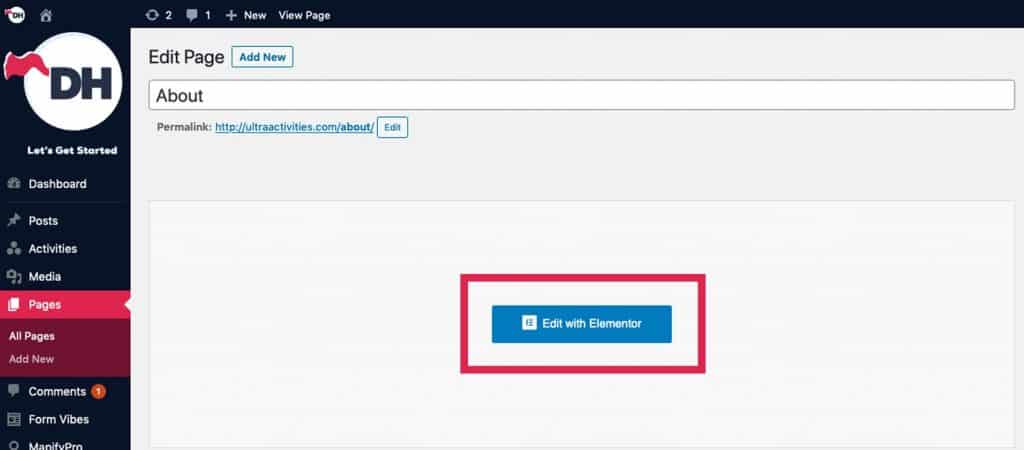 If Elementor is available on the Post Editor screen, instead of the usual text boxes, you will see "Edit with Elementor".
Click this button to open the Elementor Page Builder.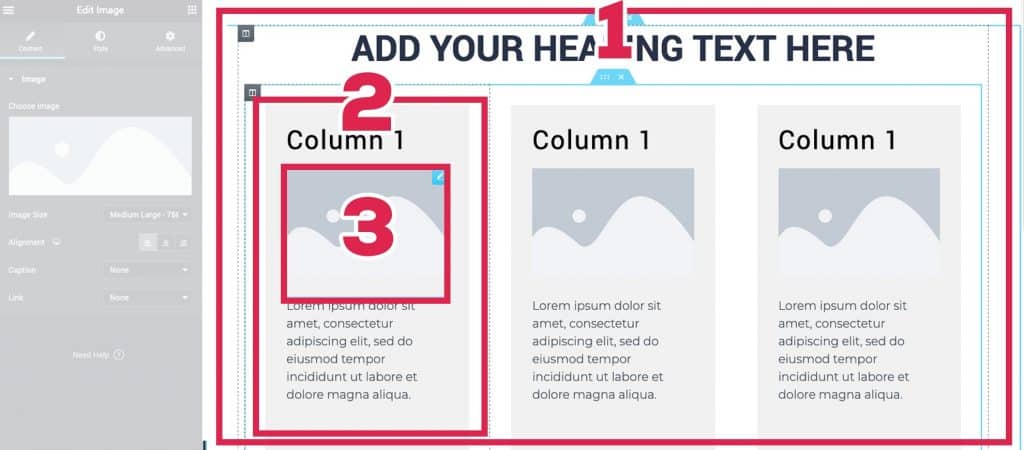 You will see a visual representation of your page, overlaid with the Elementor editor. A page is made up of…
Rows
Columns
Widgets
You can add as many of these as you wish to make up the structure of your page.
A widget is an element such as a text block, image, slider, or icon box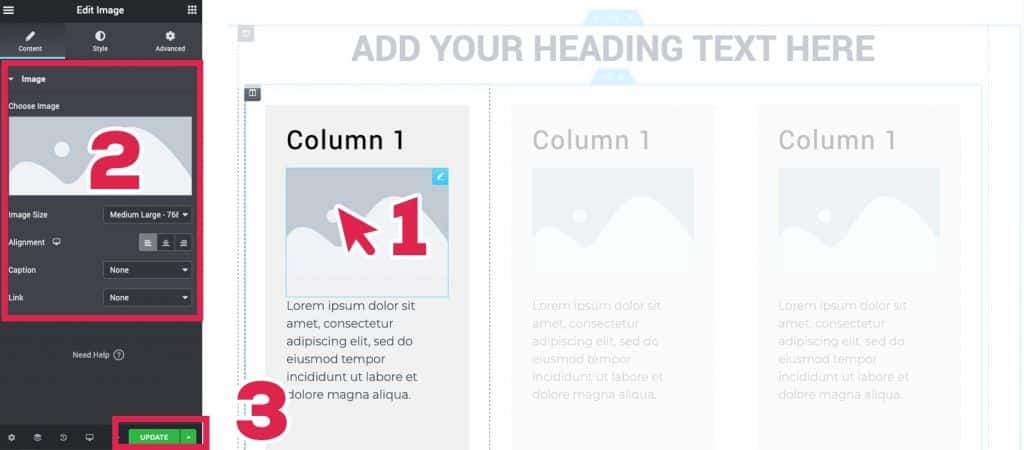 To changes any element on the page:
Click the row, column or widget, you'd like to change to bring up its properties in the sidebar.
Your sidebar will show different options depending on what you selected.
You can change content or styling using the options in the sidebar. Your changes will take place in real time.
Once you've finished changing the page, remember to click update to save your changes!
So now you know how to make basic changes to your posts and pages! Now we'll look at more complex operations such as managing an E-Commerce website.
Managing an E-Commerce website
Running and managing an E-Commerce website can seem complex. There are few extra things you'll want to know: with this guide you'll be able to:
Add Products
Edit products
Add discount codes
View and manage orders
How do I Manage my Store Products?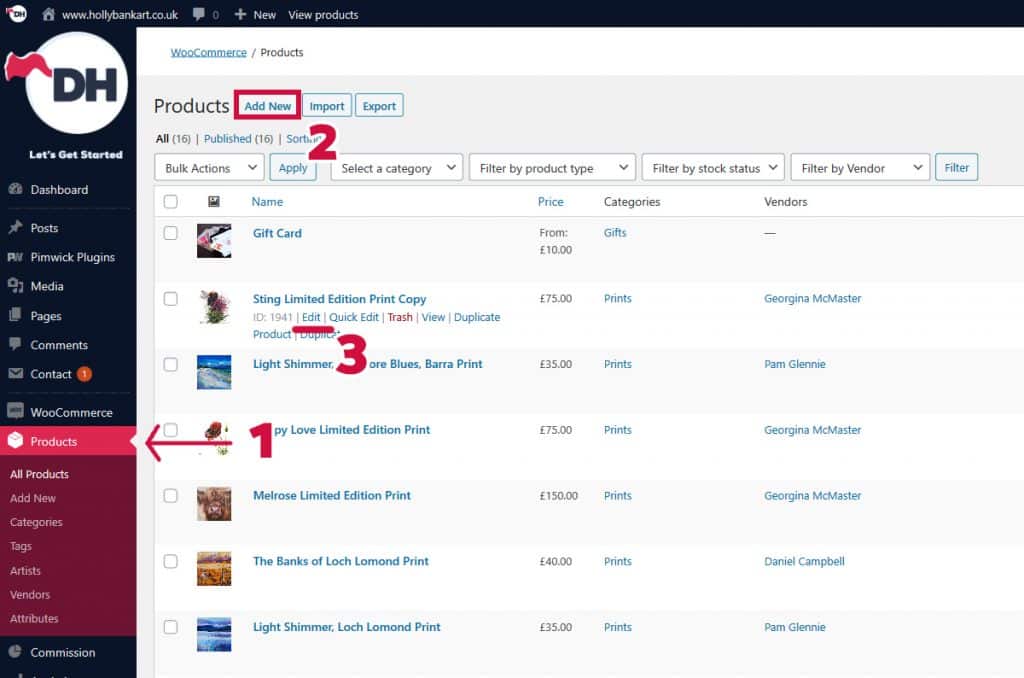 You can view, edit and create new products from the Products tab on the sidebar
1.      Go to the product page
2.     You can add a new product or..
3.     View & edit products here
How do I edit my Products?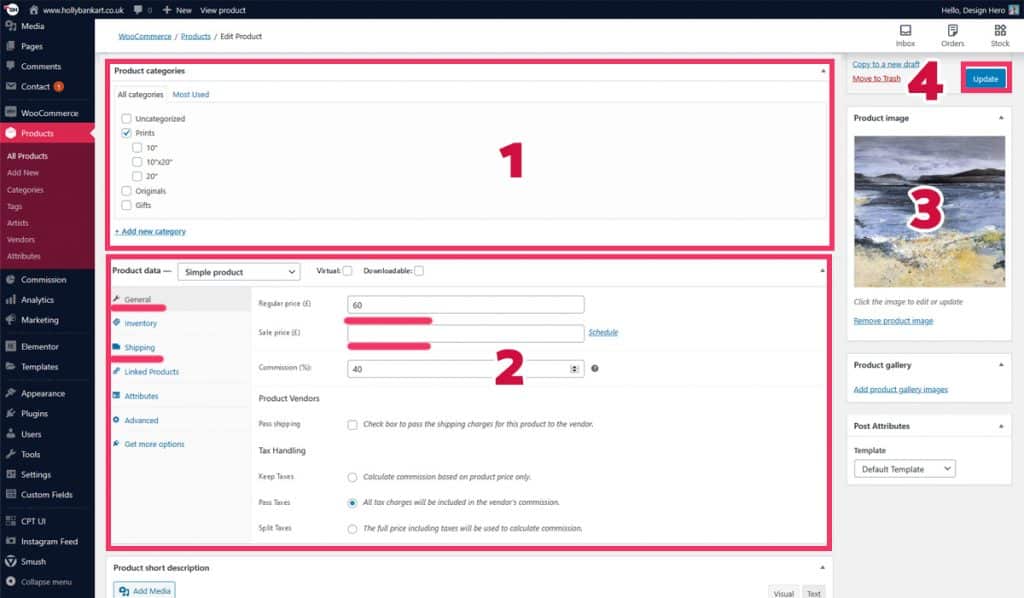 Viewing, or editing a product will take you to the Product Editor screen. Here you will see a number of panels, each with information about the product such as:
 
1.      Product Categories
2.      Product Data
Here you will find most of basic information about your product:
·         Pricing
·         Discount pricing
·         Shipping info
·         Description
3.      Featured Image
4.      After making any changes don't forget to save
 
Once finished remember to hit the green Update button to save the changes.
How do I manage my Orders on WooCommerce?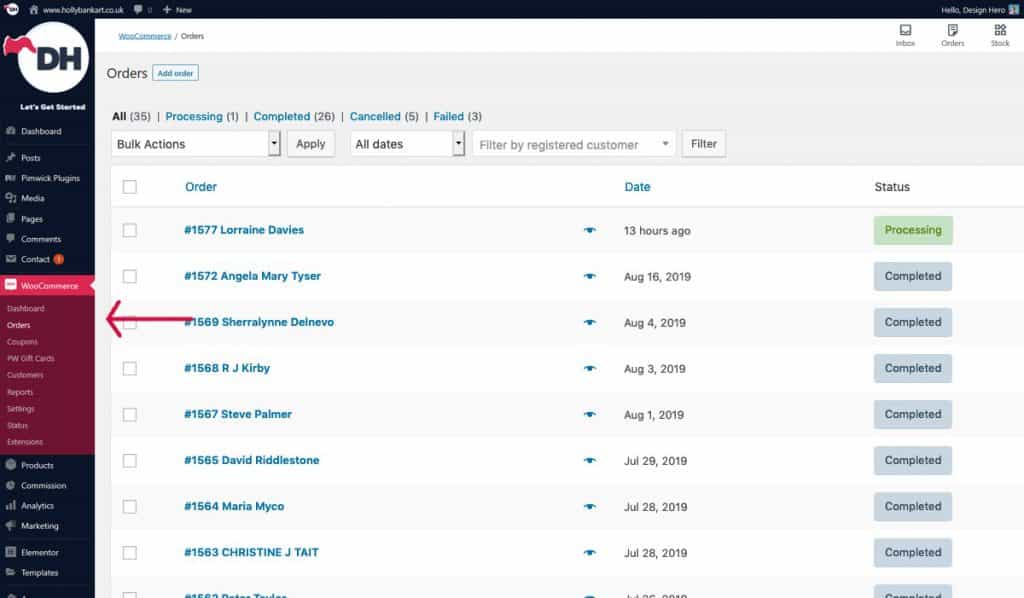 You can view, edit and mange orders from the orders tab of the sidebar

Select an order to view all details including billing, shipping and status
How do I create a Discount Coupon on WooCommerce?

You can create discount vouchers and coupons for your E-Commerce store.
These discounts can be given out as codes to your customers, and will be applied at the checkout.
First, go the Coupons page on your Sidebar.
Here you can edit or create a new coupon.
 
1.        Enter a title
2.      Add a description for your own use
3.      You can set what kind of Coupon you'd like to apply.
The options are:
·         Percentage discount
·         Fixed product discount
·         Fixed cart discount
Here you will find most of basic information about your product:
4.      Don't forget to save your change!
Summary
We've run through some of the basic functions of your wordpress site:
Logging in
Navigating your Dashboard
Creating pages
Editing your Posts and Pages
Using the Elementor visual editor
Adding E-Commerce products
Editing E-Commerce Products
Viewing customer orders
Creating discount coupons
You should be able to make basic changes yourself now but if not, I'm always happy to help, just give me a ring!
Get help with your website