branding & Marketing for Yacht Rental in Inverkip, Inverclyde
The purpose of refreshing Clan Charter's brand image was to increase the brand recognition.
Having a strong, recognisable brand is vital within the yacht chartering market, especially in Inverclyde and Scotland as a whole, where competition in the yacht chartering market is fierce. Design Hero discussed the core brand values with Clan Charters, which were decided to be Scottishness, friendliness, quality of service.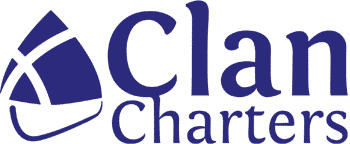 The logo combines the recognisable Scottish flag with the form of a boat, to leave the customer in no doubt that this is a boat-related business, and reinforce the Scottish qualities of the brand that attracts visitors from across the world.