Build Website Traffic with Blogging
I regularly recommend blogging as a great way to build traffic to your website and to increase your domain authority.
Many of my clients are already busy blogging and creating great content for their websites.
Meanwhile, my own blog was gathering dust wayyyyy in the back of my mind. 🕸️
So last month I decided it's time to practice what I preach and regularly update my own blog with fresh content.
Here are my top five tips for starting a new blog, which I will keep updated and revisit through my the process of writing my own blog!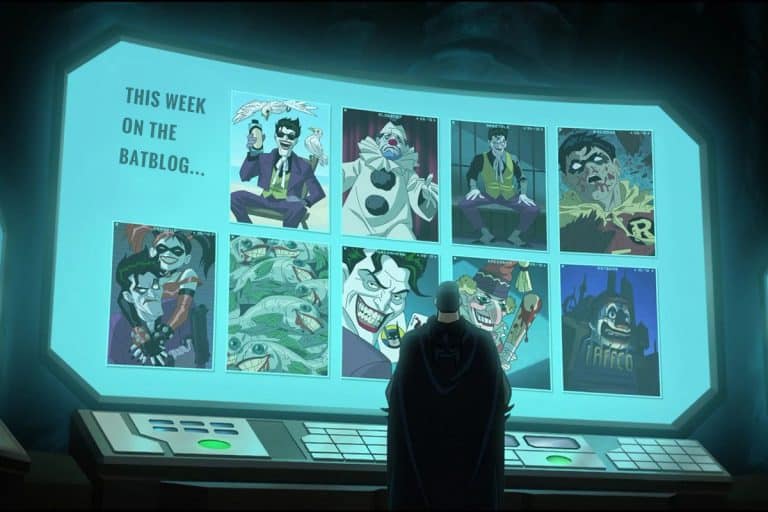 1. Do your research
I am also going to be revealing some of the data from my first month of blogging in the interest of research and using my own website as a case study and platform for experimenting with content and SEO.
I've created a number of posts this week, some news of my latest client work, and some more general marketing insights and tips for businesses.
It looks like a random spread, but there is a method to the madness, as you'll see later in this post.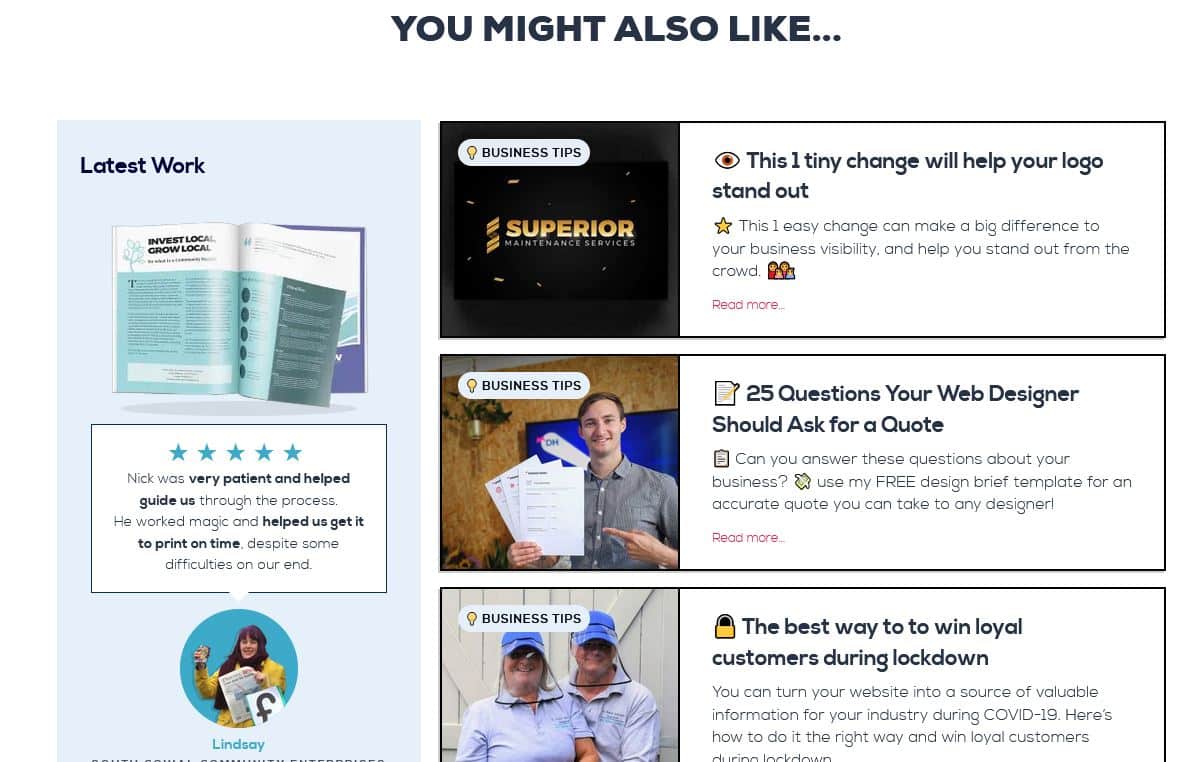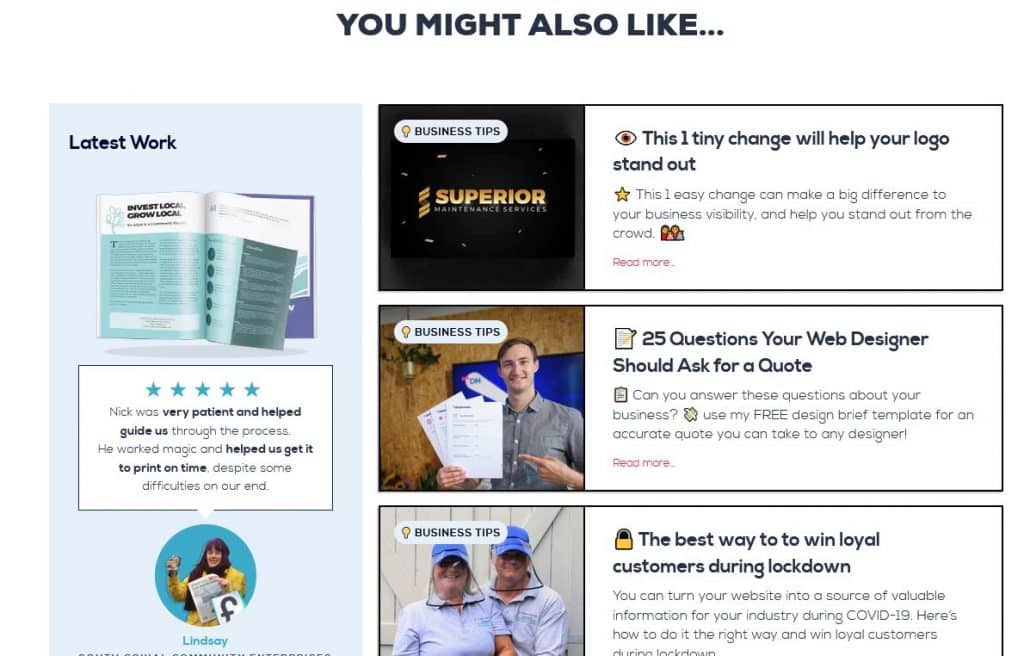 2. Set a realistic target for producing content.
Blogging is a bit like diets. If you pick a fad diet it might work in the short term, but sooner or later you'll lose interest and willpower and the weight will come back on.
Don't try to create hundreds of blog posts, instead focus on a number you can live with, and stick to it!
One good blog post a week is better than five shallow ones.
It's easy to lose interest, especially if your posts aren't giving you site traffic.
3. Analyse your content success (and failures)

So without further ado, I can reveal the topics people are most interested in from the business tips section of my blog are…
🥁….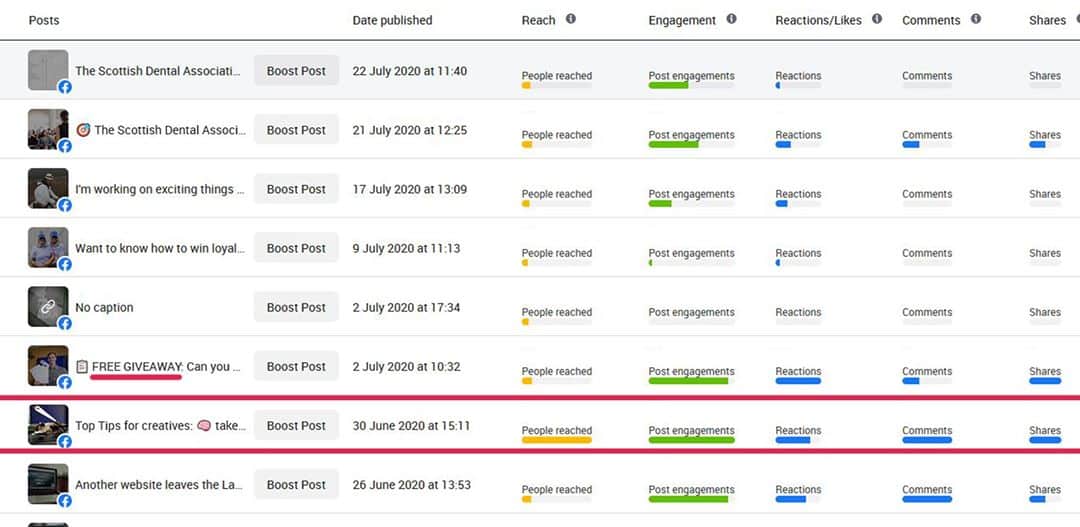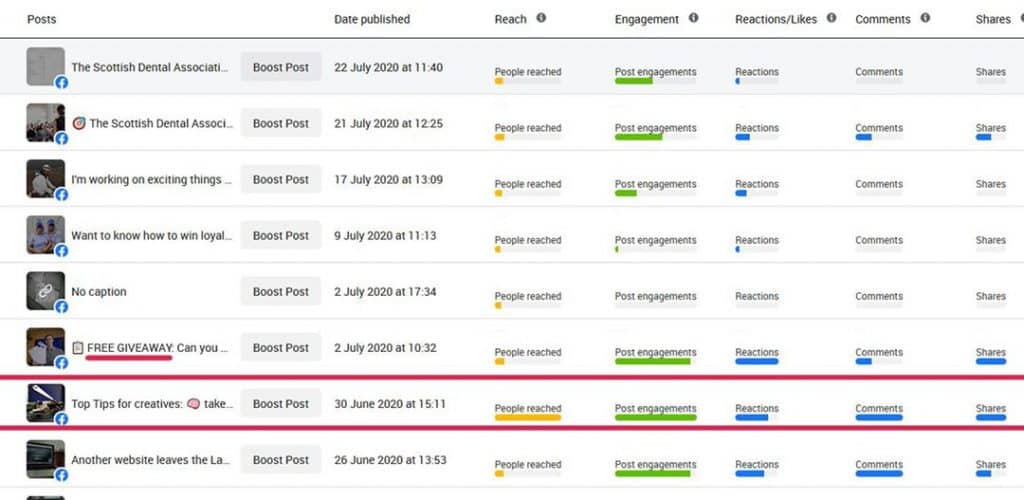 So there you have it, who would have known? 😂
1 😻 CUTE CATS
2 🆓 FREE STUFF
3 📣 POLITICS
Facebook has spoken! Forget real value and marketing tips, the data shows I should just post pics of cute cats. Right?😲
Not quite so.
The numbers don't matter at the moment. It's the relative interest which matters to me.
Now I know the best way to provide value to my audience is to provide downloads and assets for business use.
The key learning point here is remember to analyse your content performance to inform future posts.
You can see the performance of all of my posts is very low in terms of clicks:
Not Getting Results From Your Blog?
If you started blogging recently, and are you also seeing low returns from your blogging and social posts…
That's OK, it's to be expected! 👍
This fantastic guide to blogging from MOZ explains why, but allow me to summarize:
The returns at this stage are very minimal.
4. Provide real value to your audience.
I'm not falling into the trap of posting lots of cute cat pics.
Cat pics might net you a lot of views, but unless you're in the market for selling cats it won't turn into a lot of sales.
A good strategy for starting a new blog
At this stage of my blogging, I'm focussing on "Evergreen content" 🌲.
This is broad marketing tips which my clients and I can refer to as teaching tools during the design process. These posts are based on popular, low competition keywords related to my services.
If you've been following my blog, you'll know that I'm offering practical, easy to implement tips on how to market your business.
If my followers need my help with something; GREAT, give me a call. If not, enjoy the free tips and good luck!
Creating this kind of content is time-consuming, but it will always be relevant to my audience and once the page authority has built up, these posts will eventually bring me a steady stream of traffic.
It's vital that your content is original: write it yourself with your own insights and expertise and don't just rewrite articles you find elsewhere on the web. Google will know. Google knows what you ate for breakfast. Google probably already knows what you'll eat for lunch.
Many bloggers see this small return and immediately decide it's not worth the time (which is considerable) to blog.
It's not easy, it combines a number of skills including
Many people expect they will publish their first few posts and achieve instant hits on their website and scores of new followers.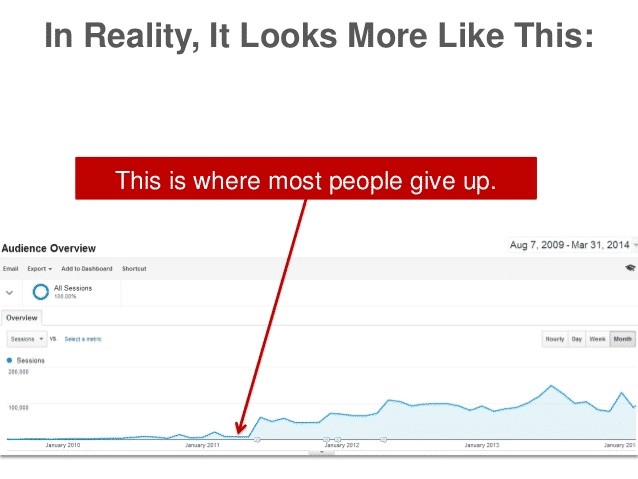 But don't give up!
As I always explain to my clients, blogging and content generation is a flywheel marketing activity.
It takes a lot of effort to get going, but once it's up and running it only takes a little effort to keep the momentum flowing.
5. Don't give up, push through to get real results.
You might only see a few site visits from each post at first.
But over time your posts will build authority with Google.
Eventually, they could be sending hundreds or thousands of visitors to your website.
When I say "Over time" I am talking about months and probably years, not days and weeks.
So what have we learned?
My Top tips for beginner bloggers
Don't give up on blogging because you're not seeing immediate results:
Do your keyword research FIRST so all your time is spent Effectively.
Set a realistic target and schedule for producing content that you can stick to.
Analyse what provides the best returns, this is what your audience is most interested in.
In the early stages of your blog post a wide spread of subjects which provide real value to your audience.
DONT GIVE UP- keep posting and it will pay off in time.
Feel free to use this data and information for your own social marketing and blogging use!
Don't forget to tune in next week for more generic pics of my lunch useful tips to boost your business! 🥗