What is Guerilla Marketing?
Guerilla marketing, Not "gorilla" marketing is a form of marketing that involves unusual or abstract marketing techniques to raise publicity for yourself or your business.
Guerrilla marketing is an advertisement strategy in which a company uses surprise and/or unconventional interactions in order to promote a product or service or generate publicity.
This pretty much sums it up. Guerilla marketing usually uses unconventional, or abstract means to turn opportunities into publicity that leads to sales.
How to leverage publicity for marketing
We all know at least one person who has a knack for making all sorts of deals and turns everyone they meet into a client.
It's easy to wish it could be this easy to find new clients. Opportunities are everywhere if you know how to spot them.
It comes totally naturally to some people, but anyone can get better at spotting and taking advantage of marketing opportunities.
Any event which results in publicity or attention can be taken advantage of to drive traffic or generate sales
In my article about how to stand out with advertising, I've written about this banner ad I fitted to my garden fence, in view of the field behind my house which sees a lot of foot traffic from dog walkers. This is a low key form of guerilla marketing; a cheap advertising banner in the right place can pay off a couple of decent enquiries.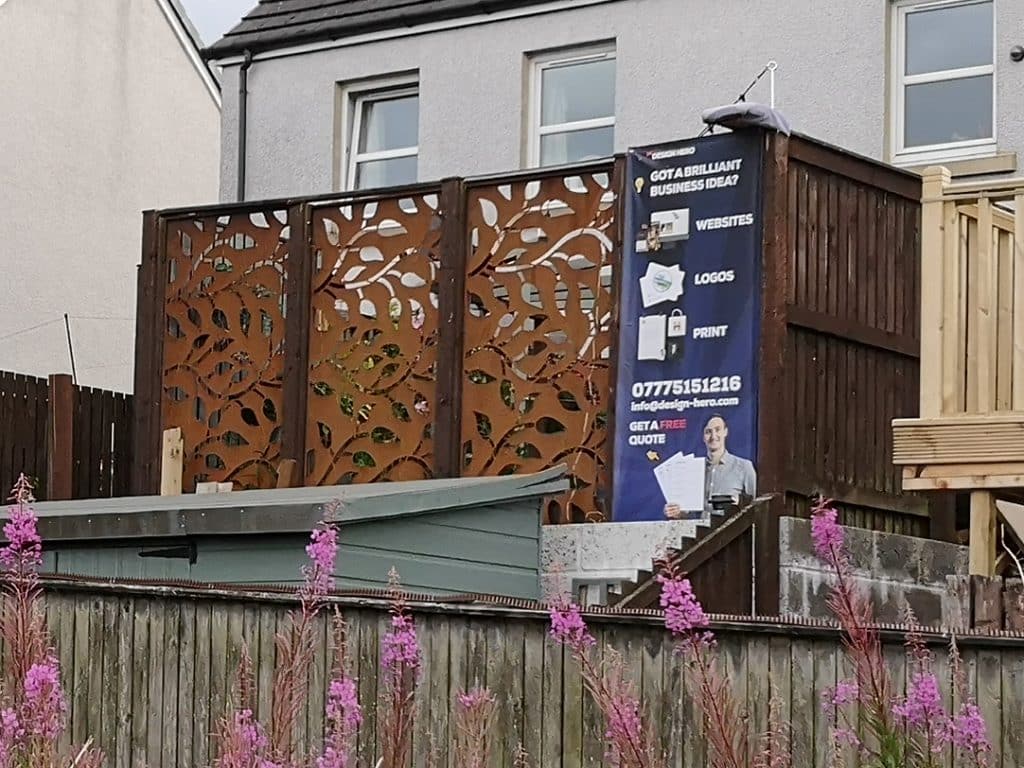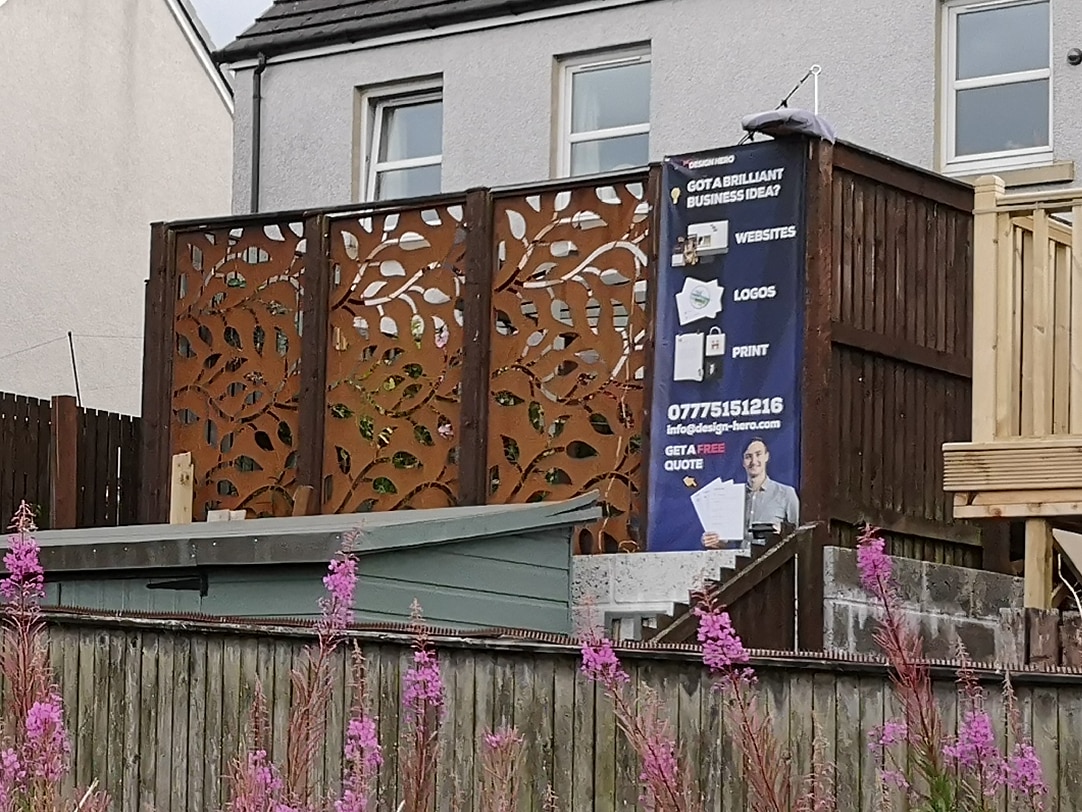 How I turned a car ad into a sales pitch
Earlier this year I spotted a more unique opportunity which paid off in lots of new enquiries from an unlikely source:
I wrote a carefully worded ad designed to sell a car on Facebook Marketplace.
The car was unique in that my talented wife and I turned this car into a mini campervan with a double bed and storage underneath.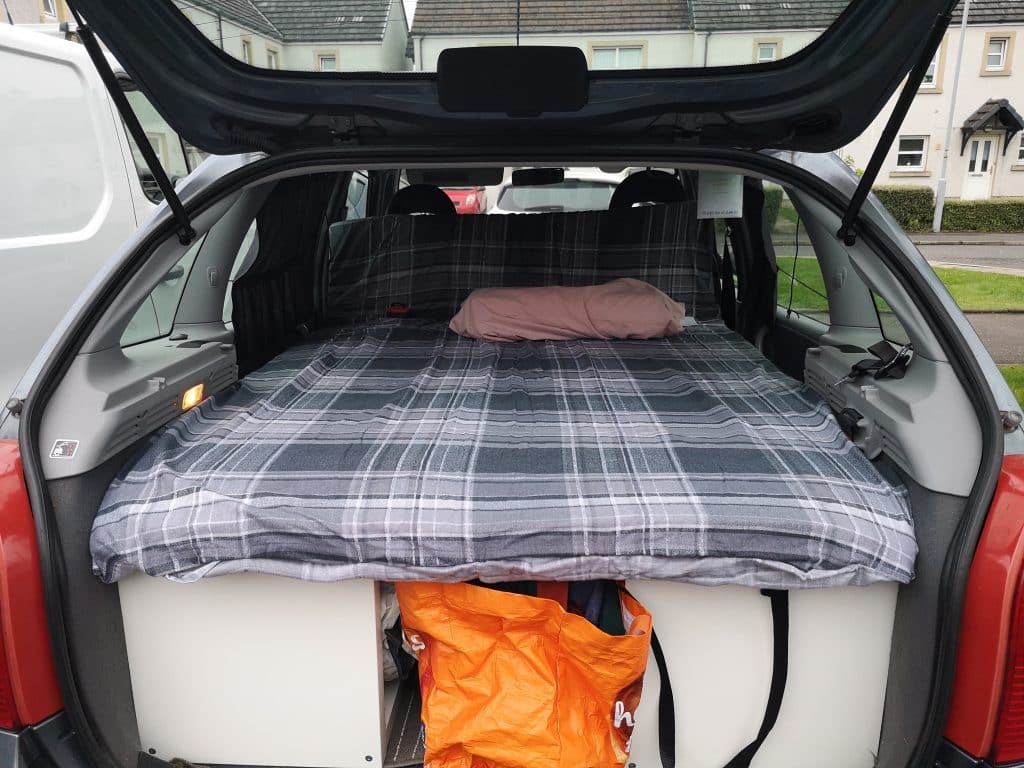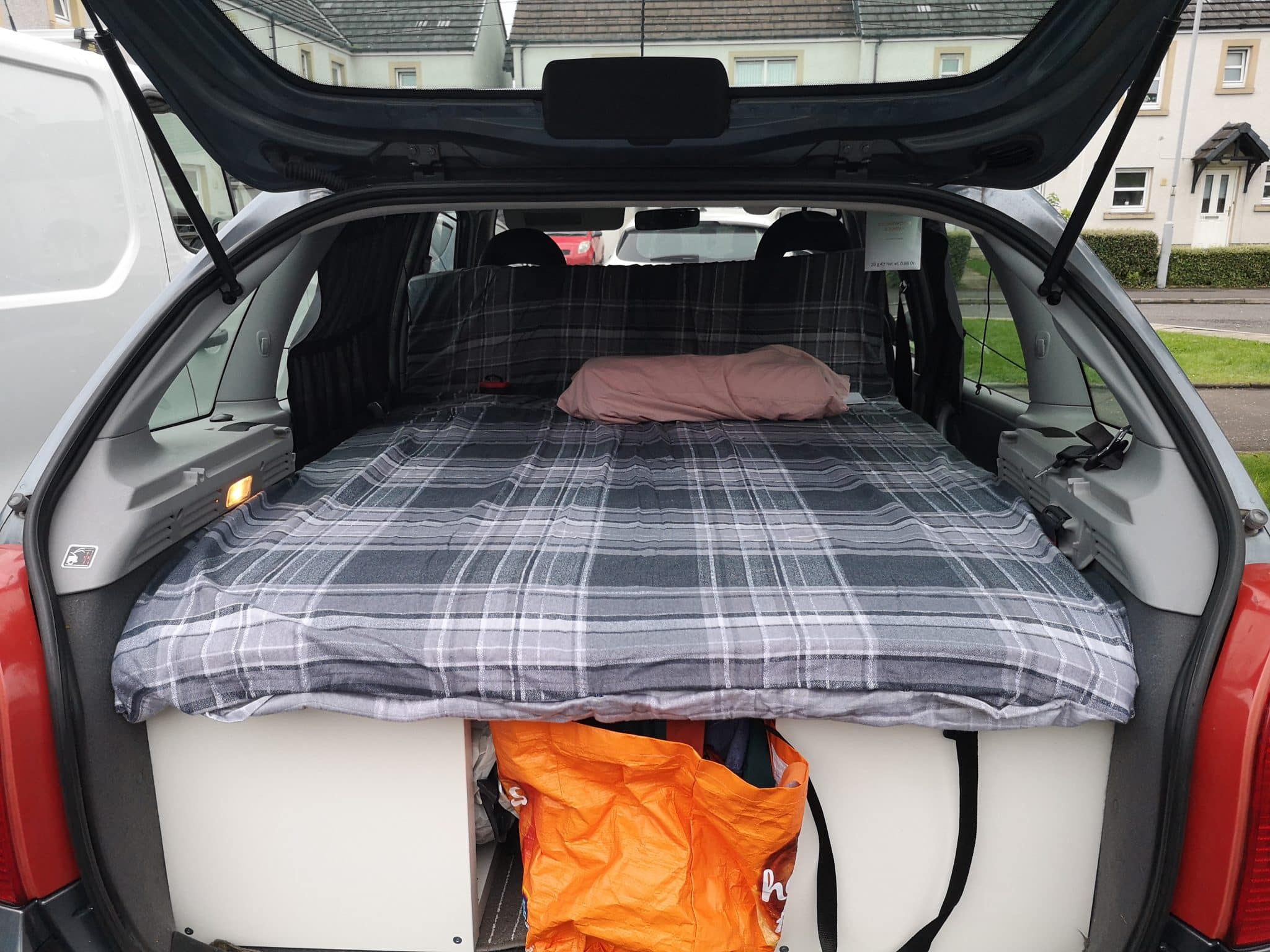 It was a great car, and I was keen to see it go to a good home, so I wrote a carefully crafted ad to help this unique car sell on Facebook.
I've already written about the benefits of a well-written ad… In this case, the ad went viral on Facebook due to it's unique humour and spin on a car sales ad.
I'll let you read the whole ad shortly, and you can see why it performed so well…
Here are what people thought about my ad from Facebook: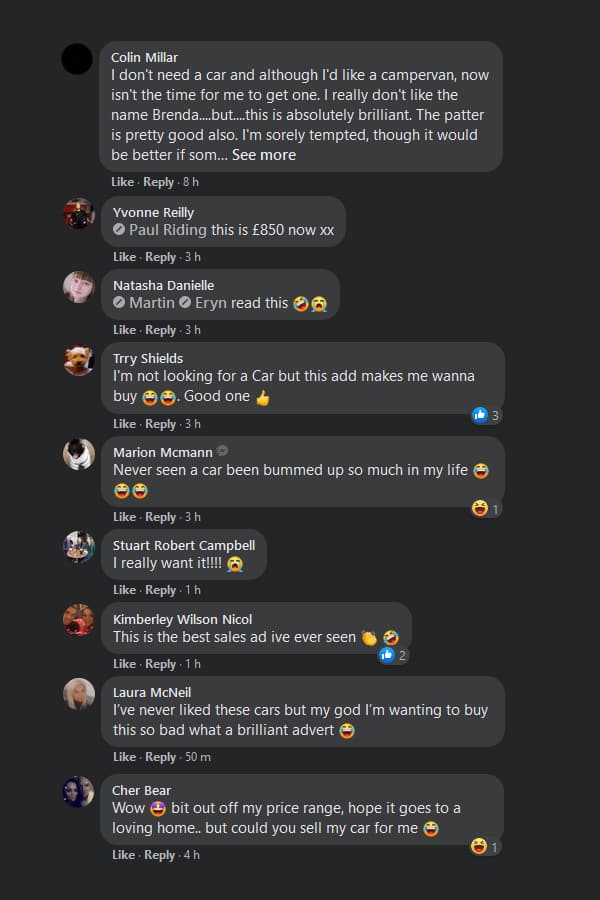 The car ad was getting a high level of traffic as people commented and shared the ad with friends and family.
Any publicity can be used for your business, and I know an opportunity when I see it, so I quickly posted my own comment with a link to my website, where I had written a blog post about my process for turning the car into a campervan.
many people who had commented on the ad then went on to read the blog article I wrote about converting my car into a campervan.
Of those visits, more than a few explored the rest of the website.
Of those few, there were 4 people who also needed the design services offered on my site.
And that's how I managed to turn this free ad into publicity for Design Hero, traffic to the site, and enquiries through my website.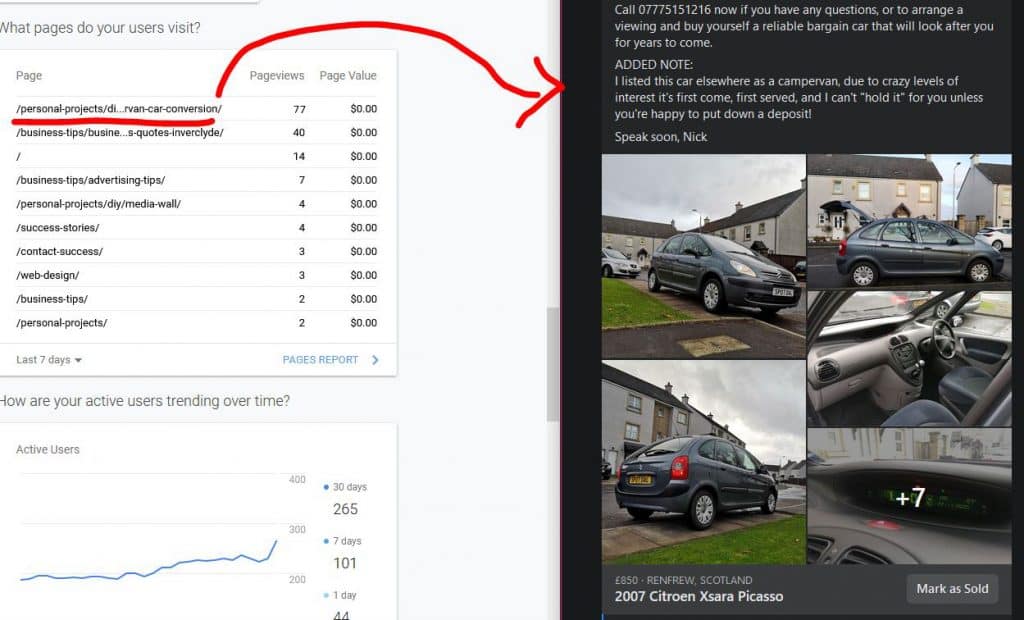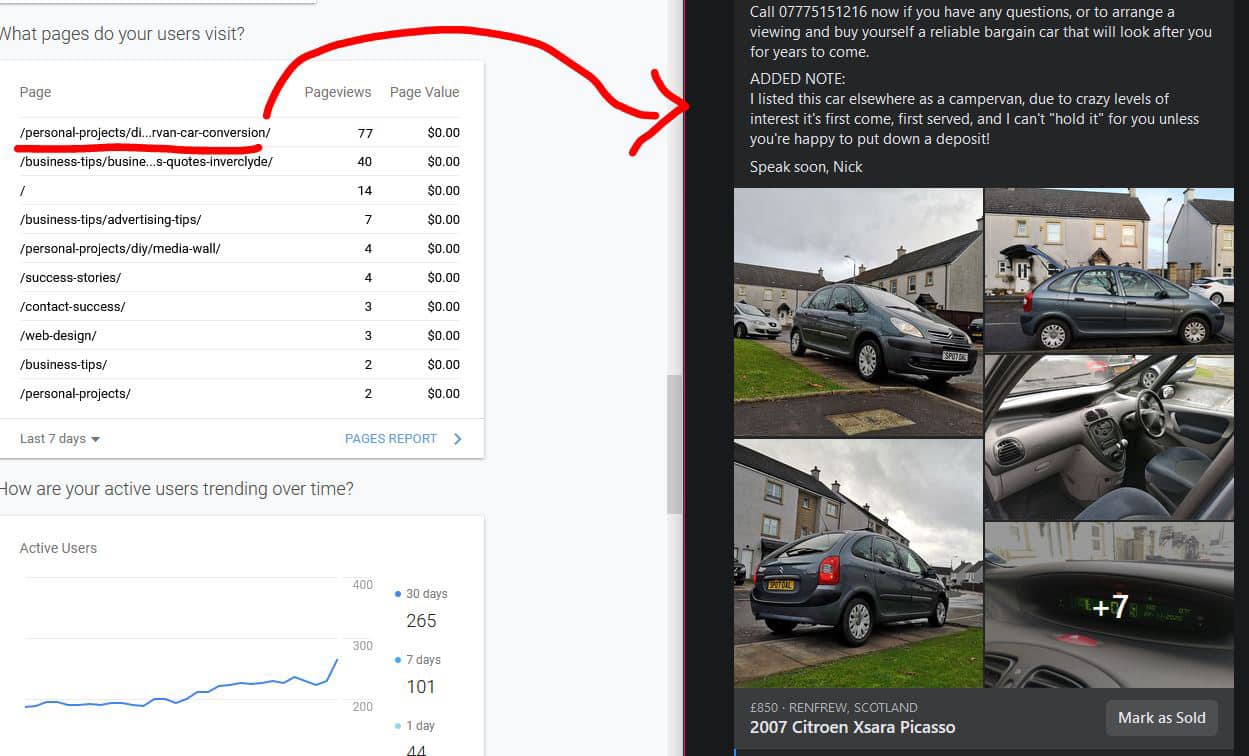 The benefits of Guerilla Marketing
The benefits of guerilla marketing are that they often cost nothing to do, except a bit of time and a\ keen eye for marketing opportunities.
You can see this free car ad outperformed my boosted posts with twice as many page visits!
The result? Four solid website enquiries, three for websites, and one logo design job.
Total value for my business so far: £980
Furthermore, the leads that came through the website were already invested;
They knew from my car ad that I'm someone who can successfully sell a product online.
Examples of Guerilla Marketing
This marketing campaign certainly wasn't intentional. I only set out to sell a car with a well-written ad but I spotted a viral pattern and quickly acted to leverage audience into more website visits and direct the attention where I wanted it to go.
That's the beauty of guerilla marketing: spotting opportunities in unlikely places and turning it into a sale!
How to spot marketing opportunities
Guerilla marketing opportunities are everywhere, you just need to keep an eye out for anything that can generate publicity for your business, and think how to channel that publicity to a place where you can sell a product or promote the value of your services.
For myself my own website was the promotional platform, it was simply a matter of getting traffic from the facebook ad onto the website.
Epilogue
The car sold in less than 24 hours.
Brenda has gone to a great new home with a lovely new owner, who I hope to catch up with soon about a new website for her arts & crafts business!
Here's the car ad in full:
Selling a 2007 Citreon Xara Picasso in amazing condition.

She's called Brenda.
This is a fantastic car for young family, with one unique feature that you won't see on any other car (more on that later).

She's a very smooth drive and it's extremely economic for tax, insurance and fuel.
When you hop inside she quickly wins you over as the car is full of useful, practical features for family life.
Brenda is like a perfectly behaved puppy that you just can't help but love because she just wants to be such a Good Dog.

Inside she's superbly spacious: you could have a full-on fist fight with your kids in this car without hitting your elbows.
The dashboard is deep enough to eat your dinner off which is handy for family picnics when it rains (It's Scotland, so always).

There's secret storage compartments EVERYWHERE, under the floor, in the walls, under the seats etc. even now I still keep finding more storage spaces.

The visibility also deserves a mention: reversing in most modern cars is like running down a country road peering through a pair of toilet rolls; this car has panoramic glass on all sides for excellent visibility, I hadn't appreciated how much it makes a difference until this car.

The Citreon Xara Picasso won't blow your hair back around the corners but she's a 1.6L so there's a surprising amount of pulling power and she breezes along easily on the motorway and in urban settings.

So, without further ado, here comes the killer unique feature that you won't see on any other car:

Brenda is also a fully functioning campervan!!! This car can transform between a car and a camper van with a full-size double bed. The process takes under 3 minutes to do.
This comes with 8 underbed storage unit sand there's enough headroom to sleep comfortably.

Perfect for COVID staycations! My wife, my dog and I have camped comfortably all over Scotland in this car.

Summary:
So, she's cheap, comfortable, economic, ergonomic AND can save you hundreds of pounds on hotel bills when we're all staycationing after COVID-19. So why the hell am I selling Brenda?

I'm only selling this car because I'm having a severe midlife crisis;
I bought a Suburu that burns more fuel than Elon Musk. Now I have to sell my possessions to pay for the upkeep.
My wife says I'm an idiot.
Prove her right.

Call 07775151216 now if you have any questions, or to arrange a viewing and buy yourself a reliable bargain car that will look after you for years to come.

Speak soon, Nick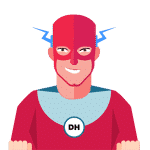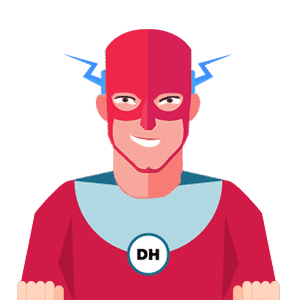 Want more of my

free

marketing tips?
Join a growing community of 700+ members for…
Free Downloads
Marketing Hacks
Quick Tips