😱 Want to hear a business horror story?
Did you know…
Stories evolved as a survival mechanism to help us clever apes spot dangers in the wild. 🙊
The dangers have changed; stories have not…
We no longer need to avoid tigers lurking in the long grass,
but we do still need to look out for sharks…
Here's a tale about someone who got bitten by sharks and ended up with a website which bit him in the bum and cost him badly…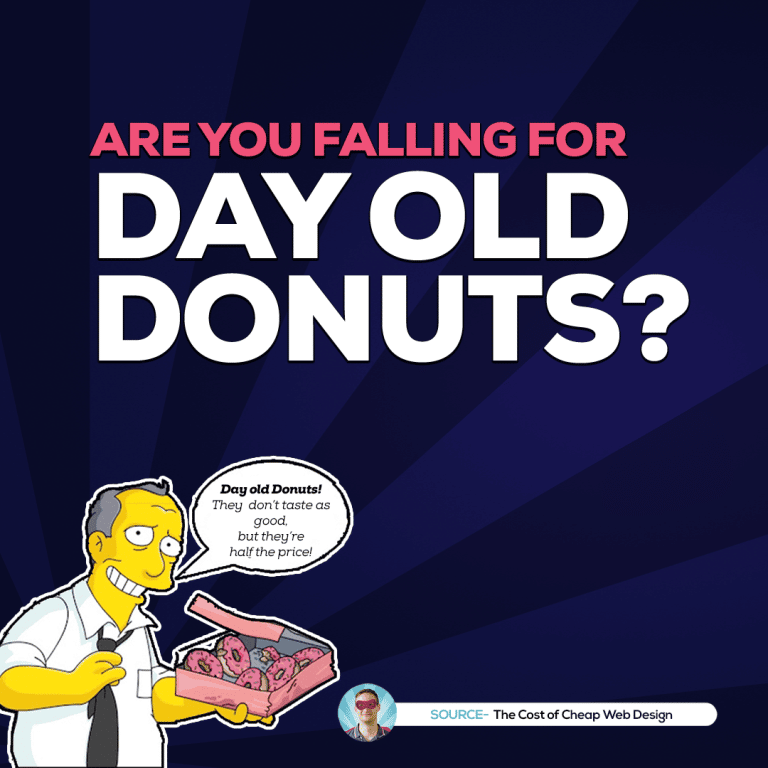 Cheap websites are like paying "Good money for old rope"
Are you falling for day old donuts?
I recently had an interesting phone call from a potential customer which raised some eyebrows at Design Hero:
It's the perfect opportunity for me to explain the difference between cheap web design, and affordable web design.
One of these will cost you an arm and a leg, cripple your sales and chain your business to a faulty product that fails to return on investment.
The other will help your business to grow organically, bring in new customers and sales, and won't break the bank.
In this post, I'll explain how to avoid the trap of cheap websites, and how to maximise your return on investment with an affordable web design that benefits your business.
How much does a website cost?
How much does a website cost? I get asked this a lot.
We have a saying in the UK web design industry:
"Bad web design costs a lot more than good web design."
There's a lot of "digital villains" in the UK web design industry, offering cheap websites at rock bottom prices. I can promise you this, when you ask anyone, anywhere, in any business:
"Can you do it cheaper?"
This is what happens…
They will cut your deliverables long before they cut into their own profit
And why wouldn't they, everyone works for a living! The difference between a good web designer and a bad one is that good web designers will be honest, and tell you your budget isn't sufficient to achieve a good outcome! 😂 While the cowboy web designer will take your money and leave you with a bag of crap! 💩
The moral of the story?
If your website budget isn't sufficient to achieve your goals, then you need to invest more. Asking someone to do it cheaper, will only cut into the value of your website. As with anything, pay peanuts and you'll get monkeys! You wouldn't believe how many websites I've redesigned from scratch because someone has thrown good money at a bad website. I advise skipping this step and doing it right the first time.
Can you tell the difference between price and value?
Sohow do I know how much to pay for a website?
Well, every website is different:
Do you want a simple scrolling site for a startup business, or an e-commerce booking website for your chain of hotels? The budget of your website is determined by how much content you want to have online, and what functionality you need from your website. Setting the right budget means a better ROI, higher value from your website and more leads for your business.
How to avoid the false economy trap
So back to my phone call with a potential customer:
Let's call them Dave Black.
Dave had a business website which wasn't fit for purpose.
The quality of design was poor and wasn't helping his business to close sales.
He also wanted to add case studies of his business services.
His current developer had told him this wasn't possible with the existing site.
He wondered if I could build him a new one.
His previous website had cost Dave around £600.
He paid his money up front and was dismayed to find that when the websites launched the designers had ignored his brief, and used the wrong colours and style.
He was just about fed up of web designers and was ready to abandon the whole idea of having a website.
When I probed further, Dave revealed that this was his third attempt to get the website right.
A classic example of cheap website designers
This doesn't surprise me:
Many of my existing clients have already had one or more failed websites.
Dave asked me how much it would cost to build a new website based on his current content, plus add a few case studies.
When I gave him a quote of £1,500 Dave was shocked.
He explained that he had expected it to be much cheaper.
He only needed a few pages and some case studies, so he was concerned that my quote was more than twice as much as he'd paid before!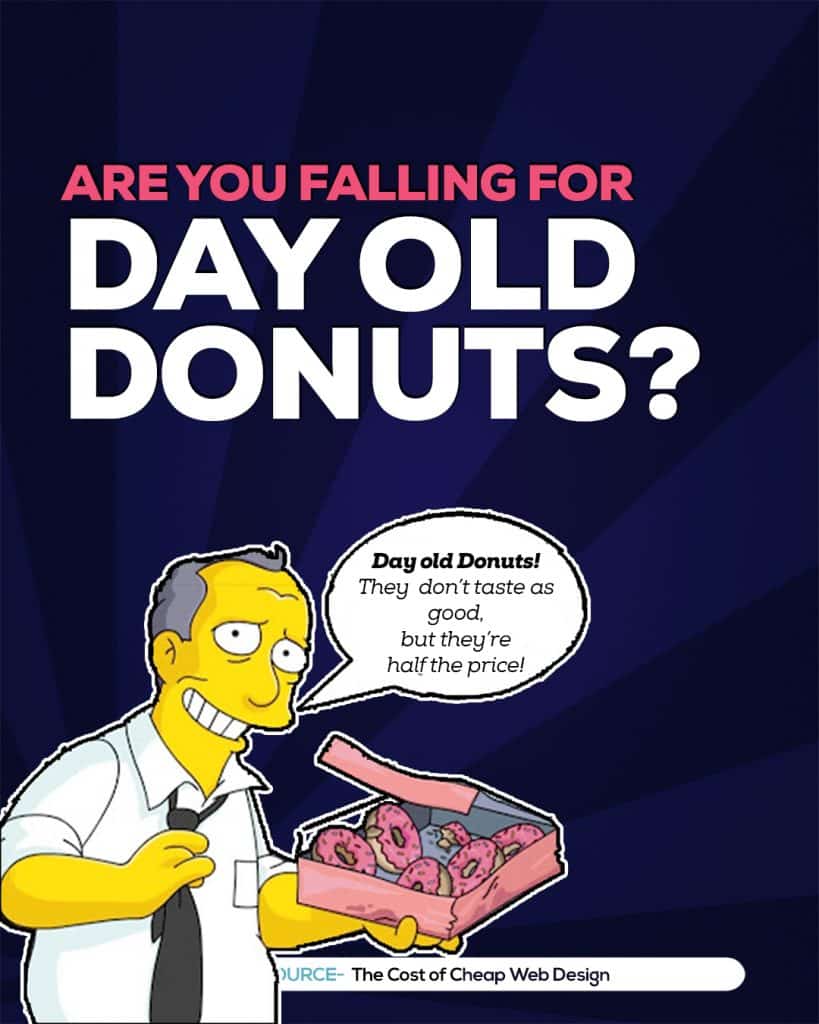 And why shouldn't he expect it to be cheap?
After all, he'd bought two websites before, and it had been £600 both times.
The definition of insanity:

Doing something over and over again and expecting a different result.
And that's where the problem lies:
both websites had been a waste of money and had given him false expectations when it came to the price, and quality of a decent website.
That's when I explained to Dave the key point that he was missing:
He was falling into the trap of false economy.
false economy is an action that saves money at the beginning but which, over a longer period of time, results in more money being spent than being saved.
Don't fall for False Economy Websites
Unfortunately, the world of web design is full of Digital Cowboys, and it's easy to be fooled by rock bottom prices. But you get what you pay for:
Imagine you were in the market for a new horse.
What if the salesman told you he was doing a super special half-price deal, just for you.
The only catch?
Each half of the horse comes separately.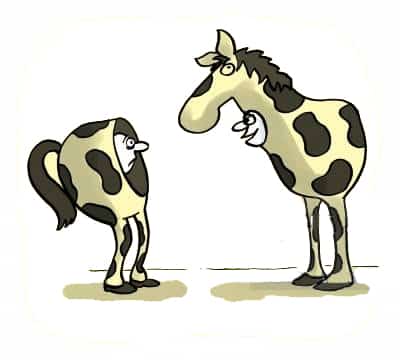 The moral of the story?
You will always be able to find someone who will sell you a cheap website, but if it' isn't done right then it's useless, and worse, you've still paid good money for it!
Why do so many people fall for Day old Donuts?
It's a simple fact that startup businesses are often short of cash. It's all too tempting to go for the cheaper option and skimp on a website when sales are slow, or cashflow is tight.
But there's no reason why you have to skimp on a half-baked website that doesn't do the job
Get it right the first time:
It's worth spending a little more now to get a website which will work for your business and take you where you need to go.
An Example of Affordable Website Designers
Now let's look at an example of affordable web design:
This time we'll look at how Jane cut her budget by 40%, and still ended up with a website which benefitted her business.
Jane was in a similar position to Dave:
She needed a new website for her business to advertise her business, and sell her products.
My initial quote to Jane was £2,000 for an E-Commerce website.
She told me that was too expensive and she couldn't afford it, given her business's current profits.
But that wasn't the end of the conversation:
In the end, we managed to build a website for Jane that gained her new customers, allowed her to sell her products and it only cost £1,200.
Here's how we achieved this:
How to develop an affordable website design on a tight budget
Cut what you don't need from your website
I quickly explained to Jane that there was plenty of features that were luxuries she didn't need immediately, that we could put onto a wishlist for later to reduce her budget.
In the end, we discovered she didn't even need to sell the products online to start with, as the customers could collect the items in her brick and mortar store.
Workout a payment plan for your website
Between us, we decided she could stretch her budget to £1,200 for the initial site build and develop extra wishlist features later on once she had more money in the bank.
We also agreed that her payments would be staged throughout the project.
A web site can take months to design and build,
so at Design Hero, I always split my website payments over 5 instalments throughout the project.
There are a few reasons I do this:
It allows my clients to commit to a website without paying upfront.
It allows the client to feedback on the process at an early stage before they've committed everything to the project.
Many of my clients are startup businesses. By breaking up the payments It's much easier for my clients my finance the project
This process allowed Jane to build the website her business needed, without breaking the bank.
Provide website feedback early
When I spoke with Dave about his cheap website, I learned that after Dave paid his £600, he paid a further £300 after launch to make changes and corrections.
It's much easier to make changes during the design stage because nothing has been built yet.
That's why it's critical to make changes during the design stage, NOT at the end.
You want to make sure your budget is being spent on building your website, not on changing it.
At Design Hero I provide clients with a design for the website, as early as possible.
Dave was hit with additional charges because the web designers had to go back and change things late in the build process. This can be costly and time-consuming.
Whereas Jane had plenty of opportunities early in the project to change the design to her liking, and make sure the website was right for her business.
By the time the site was ready for launch, there were hardly any changes needed, and her budget was well spent!
Develop a Website Development Wishlist
In the months after the website launch, Jane's business began to make more sales, in part thanks to her new website.
Jane took some of this income and reinvested in her website to start adding some of the wishlist features that we had originally cut from the brief.
Together we decided what functionality would add the most value to the business, and provide the greatest return on investment.
The first thing to get added to the website was integrated Mailchimp for targeted remarketing, which allowed jane to contact customers who had shown an interest and turn them into more sales.
The difference between cheap web design and affordable web design
So now we know the key differences between Cheap web design and Affordable web design.
Cheap web design is the worst kind of false economy.
Dave wanted a cheap website, and ended up paying £600 for two websites that failed to help his business, and was left facing another bill for a new website.
Jane, on the other hand, spent her £1,200 on affordable web design which got her business online and helped her shift more product.
£1,200 is still a decent chunk of money for startup businesses where cash flow is tight.
But if your budget is set too low then you're throwing good money after bad.
Your website will quickly become a money pit costing you dearly every time you need to make an update.
When it comes to websites, try before you buy
This was one of Dave's biggest mistakes.
The reason for Dave's mistrust of web designers was that his brief for the website was completely ignored.
I was shocked to learn that after Dave paid his £600, the first time he saw his website was after it was launched!
I explained to Dave that by splitting his payments into five instalments, it allowed him to preview the website at an early stage of the build, and come back with feedback to steer the direction of the website.
This is much more reassuring than committing 100% to something he hasn't even seen.
The TRUE value of a good website
✅ sell more products /services
✅ save time on admin
✅ it will also address concerns
✅ automate admin
✅ sell more products /services
✅ save time on admin
✅ get found online…
Cheap web design will cost your business dearly.
So now we know there's no reason why you can't get a brilliant, low-cost website on an affordable budget.
When it comes to design, you get what you pay for.
That's why it's important to do it right the first time.
Get it right the first time by following these steps:
Cut what you don't need
Workout a payment plan
Provide Feedback early
Develop a Website Development Wishlist
Try before you buy
At Design hero your budget is within your control:
I can recommend how much budget you should put towards a project but it's up to you to determine how much you want to spend on it.
Design Hero aren't your usual WordPress web design company…
Don't get me wrong, a well-designed WordPress website is a great way to take your business to the next level. But you didn't come here because you need a website. You came here because you want to grow your business. You came here because…
✉ You want more enquiries
⌛ You want to stop wasting time on admin
🔥 You want to grow your business
WordPress website developers that help your business take off online.
Join the WordPress Websites experts! Our digital marketing experts have helped hundreds of businesses to supercharge their marketing. Our professional web designers, web developers and marketing consultants go above and beyond to take your business to the next level.
Launching your new website is only half the story. Design Hero will show you how to use your new WordPress website as a marketing tool to grow your business.
WordPress websites that Futureproof your business
Your new WordPress website is the marketing tool you need to supercharge your business:
It's easy to use.
You have full control of your site
It can be as simple, or as advanced as you like
It supports various media
It has a huge online support community
It simply can't be beaten for flexibility and futureproofing your website for future growth. WordPress websites are perfect for small to medium business owners looking to create a website for the business. At Design Hero, we love WordPress because it offers maximum flexibility to create any website you want. WordPress is also simple enough for non-experts to use so you can update your own site after launch.
If you are looking to sell products you will also want to look at E-Commerce websites, which are an extension of a CMS platform like WordPress.
More than just pretty WordPress website designs…
Beauty is only skin deep. it's sad but true. even the most stunning website design is useless if your website doesn't provide your business with value.
Your website is a tool to generate more leads for your business and you can use your website to boost your marketing and grow your business. With a new WordPress website built by expert developers, you can boost relevant traffic, convert your visitors into new customers, and increase sales.
The best WordPress websites designers will help your business grow
Your new WordPress website is only half the story; after your new WordPress website launches, don't just leave it there and do nothing. Use it as a tool to help your business grow. Now, THAT's what your business needs to thrive!
Your new WordPress website is the foundation of your business
So you're looking to build a new website for your business, but you're unsure where to start? The first thing to think about is how you will build your new website. This will be the foundation of your entire website so it's important to get right! In the past, many websites were simply hand-coded by website developers using HTML and CSS.
This leaves any web design work solely in the hands of experts who know how to code. This is fine for the design and build of the website initially, but can prove cumbersome later down the line if you want to make small changes to your website, and have to keep going back to the web designer for help! Luckily times have changed! There are now various types of software called Content Management Systems which allow users to manage their own websites with greater ease.
Design Hero aren't your usual CMS website development company…
We use WordPress websites for all our new business websites. Why? They simply can't be beaten for ease of use and long-term flexibility of your site. In the past, making any changes to a website needed a professional web developer or a web designer with expert coding skills. But fear not, technophobes! You no longer need to be a major nerd to make updates to your own websites. With WordPress managing and updating your site is simple and easy to do.
If you want a website which is simple to use, easy to update, fast, secure and futureproof, then save yourself some hassle and build your website on WordPress. Every Design Hero website is built fully responsive on a robust CMS platform. That means you can expect your website to be:
Responsive
Secure
Fast
Flexible
Why build your new website on WordPress
So now you know what to look for in a CMS platform, but before you start diving into comparisons, I'm going to let you in on a secret which will save you a lot of time!
I've developed sites on various platforms, and I can tell you right now, the only CMS you should use is WordPress!
Why am I ignoring hundreds of other options you ask? WordPress is simply the best option for small to medium businesses. It's used by the vast majority of small to medium businesses for good reason: With a higher number of users than all other platforms put together, developers focus their time on this platform. That means it has the best plugins, the most advanced interface, the best support, the best security and the best user experience. It's also completely free! If you want a website which is simple to use, easy to update, fast, secure and futureproof, then save yourself some hassle and build your website on a CMS. At Design Hero I have years of experience building CMS sites so get in touch to start building your new website on a CMS platform of your choice!
Got Questions about our WordPress Websites services?
I hope this article helps you to set a realistic budget, and maximise your return on investment.
If you'd like to chat about a project you're working on, or need some advice about budgeting for a project, give me a ring!