How to avoid the false economy trap
So back to my phone call with a potential customer:
Let's call them Dave Smith.
Dave had a business website which wasn't fit for purpose.
The quality of design was poor and wasn't helping his business to close sales.
He also wanted to add case studies of his business services.
His current developer had told him this wasn't possible with the existing site.
He wondered if I could build him a new one.
His previous website had cost Dave around £300.
He paid his money up front and was dismayed to find that when the websites launched the designers had ignored his brief, and used the wrong colours and style.
He was just about fed up of web designers and was ready to abandon the whole idea of having a website.
When I probed further, Dave revealed that this was his third attempt to get the website right.
A classic example of cheap web design
This doesn't surprise me:
Many of my existing clients have already had one or more failed websites.
Dave asked me how much it would cost to build a new website based on his current content, plus add a few case studies.
When I gave him a quote of £600 Dave was shocked.
He explained that he had expected it to be much cheaper.
He only needed a few pages and some case studies, so he was concerned that my quote was twice as much as he'd paid before!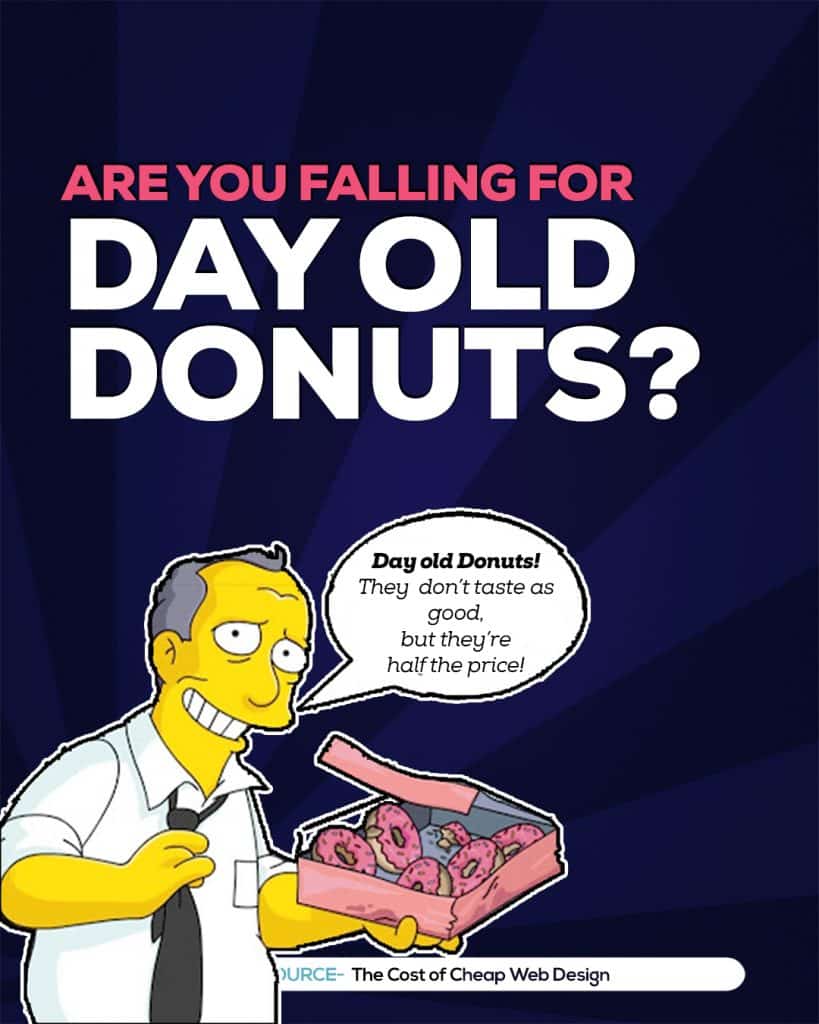 And why shouldn't he expect it to be cheap?
After all, he'd bought two websites before, and it had been £300 both times.
The definition of insanity:

Doing something over and over again and expecting a different result.
And that's where the problem lies:
both websites had been a waste of money and had given him false expectations when it came to the price, and quality of a decent website.
That's when I explained to Dave the key point that he was missing:
He was falling into the trap of false economy.
false economy is an action that saves money at the beginning but which, over a longer period of time, results in more money being spent than being saved.
Don't fall for False Economy
Unfortunately, the world of web design is full of Digital Cowboys, and it's easy to be fooled by rock bottom prices. But you get what you pay for:
Imagine you were in the market for a new horse.
What if the salesman told you he was doing a super special half-price deal, just for you.
The only catch?
Each half of the horse comes separately.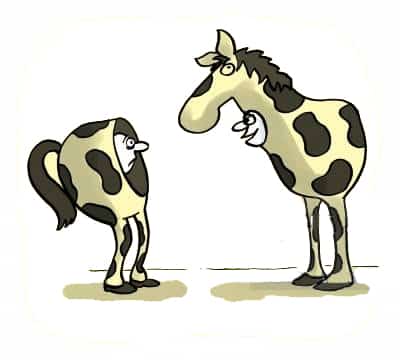 The moral of the story?
You will always be able to find someone who will sell you a cheap website, but if it' isn't done right then it's useless, and worse, you've still paid good money for it!
Why do so many people fall for Day old Donuts?
It's a simple fact that startup businesses are often short of cash. It's all too tempting to go for the cheaper option and skimp on a website when sales are slow, or cashflow is tight.
But there's no reason why you have to skimp on a half-baked website that doesn't do the job
Get it right the first time:
It's worth spending a little more now to get a website which will work for your business and take you where you need to go.
An Example of Affordable Web Design
Now let's look at an example of affordable web design:
This time we'll look at how Jane cut her budget by 40%, and still ended up with a website which benefitted her business.
Jane was in a similar position to Dave:
She needed a new website for her business to advertise her business, and sell her products.
My initial quote to Jane was £1000 for a simple E-Commerce website.
She told me that was too expensive and she couldn't afford it, given her business's current profits.
But that wasn't the end of the conversation:
In the end, we managed to build a website for Jane that gained her new customers, allowed her to sell her products and it only cost £600.
Here's how we achieved this:
How to develop an affordable website on a tight budget
Cut what you don't need
I quickly explained to Jane that there was plenty of features that were luxuries she didn't need immediately, that we could put onto a wishlist for later to reduce her budget.
In the end, we discovered she didn't even need to sell the products online to start with, as the customers could collect the items in her brick and mortar store.
Workout a payment plan
Between us, we decided she could stretch her budget to £600 for the initial site build and develop extra wishlist features later on once she had more money in the bank.
We also agreed that her payments would be staged throughout the project.
A web site can take months to design and build,
so at Design Hero, I always split my website payments over 5 instalments throughout the project.
There are a few reasons I do this:
It allows my clients to commit to a website without paying upfront.
It allows the client to feedback on the process at an early stage before they've committed everything to the project.
Many of my clients are startup businesses. By breaking up the payments It's much easier for my clients my finance the project
This process allowed Jane to build the website her business needed, without breaking the bank.
Provide Feedback early
When I spoke with Dave about his cheap website, I learned that after Dave paid his £300, he paid a further £300 after launch to make changes and corrections.
It's much easier to make changes during the design stage because nothing has been built yet.
That's why it's critical to make changes during the design stage, NOT at the end.
You want to make sure your budget is being spent on building your website, not on changing it.
At Design Hero I provide clients with a design for the website, as early as possible.
Dave was hit with additional charges because the web designers had to go back and change things late in the build process. This can be costly and time-consuming.
Whereas Jane had plenty of opportunities early in the project to change the design to her liking, and make sure the website was right for her business.
By the time the site was ready for launch, there were hardly any changes needed, and her budget was well spent!
Develop a Website Development Wishlist
In the months after the website launch, Jane's business began to make more sales, in part thanks to her new website.
Jane took some of this income and reinvested in her website to start adding some of the wishlist features that we had originally cut from the brief.
Together we decided what functionality would add the most value to the business, and provide the greatest return on investment.
The first thing to get added to the website was integrated Mailchimp for targeted remarketing, which allowed jane to contact customers who had shown an interest and turn them into more sales.
The difference between cheap web design and affordable web design
So now we know the key differences between Cheap web design and Affordable web design.
Cheap web design is the worst kind of false economy.
Dave wanted a cheap website, and ended up paying £600 for two websites that failed to help his business, and was left facing another bill for a new website.
Jane, on the other hand, spent her £600 on affordable web design which got her business online and helped her shift more product.
£600 is still a decent chunk of money, especially for startup businesses where cash flow is tight.
But if your budget is set too low then you're throwing good money after bad.
Your website will quickly become a money pit costing you dearly every time you need to make an update.
When it comes to websites, try before you buy
This was one of Dave's biggest mistakes.
The reason for Dave's mistrust of web designers was that his brief for the website was completely ignored.
I was shocked to learn that after Dave paid his £300, the first time he saw his website was after it was launched!
I explained to Dave that by splitting his payments into five instalments, it allowed him to preview the website at an early stage of the build, and come back with feedback to steer the direction of the website.
This is much more reassuring than committing 100% to something he hasn't even seen.
"Cheap" web design can end up costing your business dearly.
So now we know there's no reason why you can't get a brilliant, low-cost website on an affordable budget.
When it comes to design, you get what you pay for.
That's why it's important to do it right the first time.
Get it right the first time by following these steps:
Cut what you don't need
Workout a payment plan
Provide Feedback early
Develop a Website Development Wishlist
Try before you buy
At Design hero your budget is within your control:
I can recommend how much budget you should put towards a project but it's up to you to determine how much you want to spend on it.
I hope this article helps you to set a realistic budget, and maximise your return on investment.
If you'd like to chat about a project your working on, or need some advice about budgeting for a project give me a ring!