Here I explore interior spaces and give some tips for making the most of the space you have. We all have our favourite spots in the house, so here's a few of mine in my own home and what I've done to make the most out of the space and light.
This post looks at my very own living room. The living room adheres to a strict colour palette of pale forest greens and teals, against copper accessories throughout.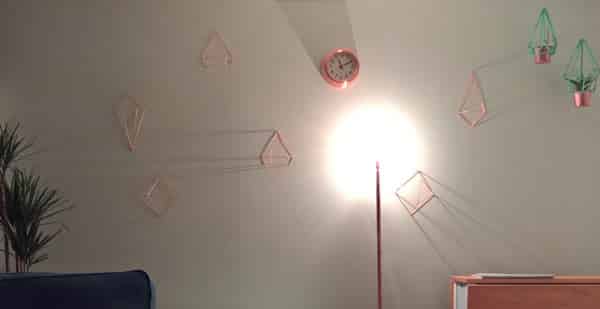 We have furnished the back wall with a homemade copper standing lamp, which matches perfectly with a handmade sea glass stool, a storage chest painted to match the wall, and finally a folding table which saves on space, but can fold to accommodate 8 guests. This is accompanied by folding chairs tucked away and hung in a cupboard to avoid clutter. All of these were pulled out of a rubbish skip at some point and upcycled using a lick of paint, or a bit of TLC. Geometric copper shapes, hanging plants, and the clock enhance the colour palette and help throw some interesting shadows across the wall in the soft light from the floor standing lamp. Plenty of plants help to bring a bit of nature into the living room.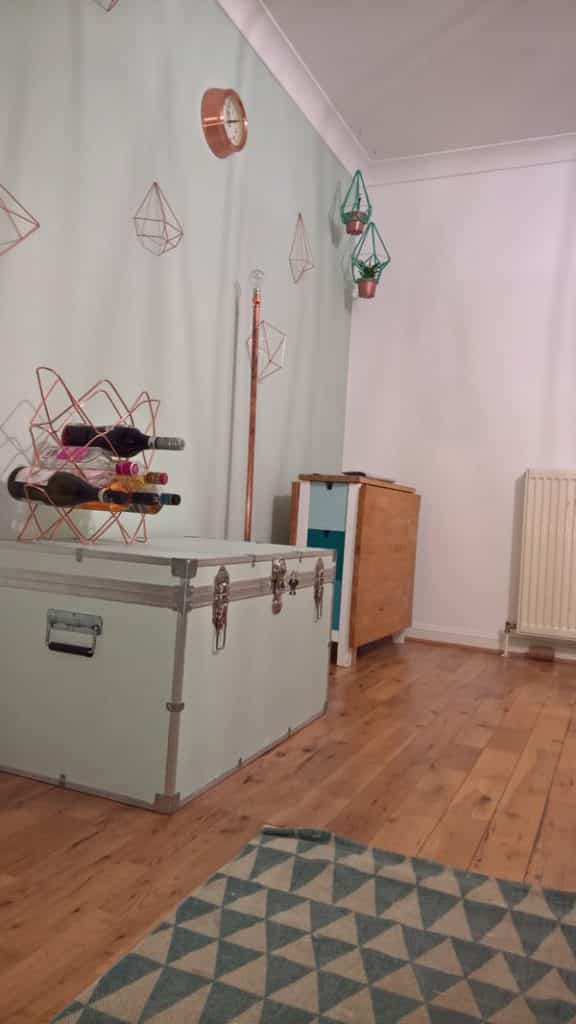 On the other wall, we have created a cosy sitting space by using the natural L shape of the room to form a cubby. In this space we have used boards of OSB to create a media wall which hides ugly cables, but also defines the boundary of the seating space, separating it visually from the dining space. To finish the sidewall has been painted a pale green to match the rear wall, with hanging plants and a length of wood to close off the second couch and create a sense of intimacy.