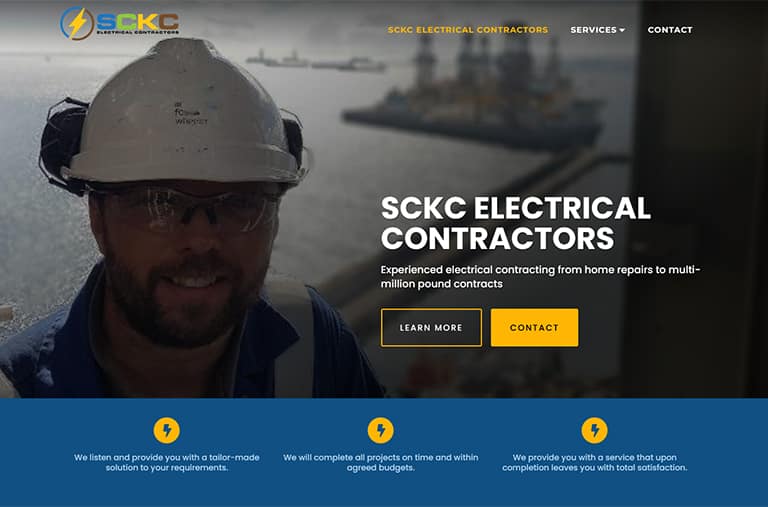 Affordable websites for electricians
This project was the cheapest budget website I've ever worked on, and was also completed in a matter of days, so I'm glad how well it turned out.
Stevie had a nearly finished website from a previous web designer.
But the relationship had gone South, there were some nasty emails flying about, and some very unprofessional behaviour from his previous web designer, and as a result the website was unfinished.
Stevie wanted me to update and finish what the previous web designer had made for him. I warned him that my professional advice was that it was such a simple site, he'd be better putting his money into a new starter website than trying to improve his half-finished one.
In the wonderful world of web design, there's only so much you can polish a turd 💩😂.
Stevie was ready to throw in the towel, abandon the whole idea of having a website at all and didn't want to put any more money into website development.
Ordinarily, I would have said the budget for this site was too low and turned down the job, but Stevie had been stung quite badly by his previous designer and I wanted to redeem the industry, and of course, help Stevie out, even though a professional website was really beyond his budget at this point. I hate seeing people getting ripped off 😡.
I've could go on (and have before) about the dangers of false economy of cheap websites in the web design industry. If are thinking about a new website, I'd strongly recommend you give it a read before you update your website.
Don't fall for a cheap website
Sometimes it's quicker to start again than try to unpick someone else's work. In the long run, it's almost always cheaper, as the extra time needed to do small updates adds up!
So I offered Stevie a middle ground where I would customize my preinstall to match the designs his previous developer had. ( though in the end I threw that out the window and made it better 🤣) so at least Stevie could get some kind of website live for his business!
This is especially impressive when you consider that at Design Hero I'm set on building high-quality websites, no matter what. I don't resort to simply customizing a theme (every website I build is still designed custom for the client).
So how was I able to turn around this project and design a whole website so quickly and cheapy?
Simply put I have one of the most powerful preinstalls in the business. This set up is the foundation of every website I build at Design Hero, and comes with a suite of premium plugins and custom features that allow me to build fully customized, powerful, fast and optimized websites quickly and efficiently.
It's been years in the making, tinkering and tweaking until I have a perfect system but the results pay off every day, and this project, in particular, has confirmed all the effort was worthwhile!
Get more clients with a new website
I set out to work to do as much as I could in as little time as I had.
It's still a really polished website with all the right tricks for conversion including…
Contact Popups
Sticky Contact Buttons
Prominent Call to Actions
Service testimonials
Stevie is delighted with his new business website, and quite astonished how much I achieved in a short amount of time.
Want to see the results for yourself?
Here's Stevie's new Electrical Contracts website.
Are you playing with the idea of updating your website? Get in touch with Design Hero and I'll take a look and let you know whether it's better to tweak what you have or start over! I'll always give you my honest advice (even if it isn't what you were hoping to hear)!
Meanwhile, there's more to come from my other enquiries from local electricians, including some interesting and unique examples to increase the number of enquiries coming from your website.
Stay Super!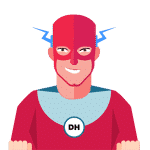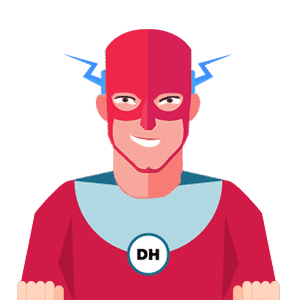 Want more of my

free

marketing tips?
Join a growing community of 700+ members for…
Free Downloads
Marketing Hacks
Quick Tips